If there is a better sword shop let them step forward!!
by Andrew Verdon
(Lewisbug, Tennessee)
I cannot express how much I enjoy buying from KOA! Last year they recommended a rapier I was looking for and it was fantastic!!! Just yesterday my second purchase (UC Tactical Wakizashi) after being sent on Monday! They are great to do business with and are lightning fast in sending items out!
Join in and write your own page! It's easy to do. How? Simply click here to return to Kult of Athena.

Looking for honest, trustworthy sword sellers? Look no further than:

FEATURED ARTICLES AND REVIEWS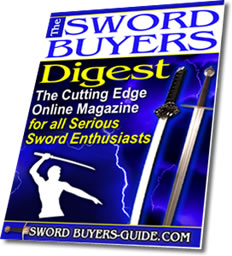 Sword Buyers Digest Newsletter!

Sword Buyers Digest Newsletter

Sign Up to Our FREE Monthly E-zine for all the latest sword news, info and much, much more! Click here for more info.