Imperial Forge Limited Edition Folded Steel Katana IF1000LTD vs Hanwei 30th Anniv. Musashi Katana
by Al
(Phoenix AZ)
Hello, I have done hours of research on line. I want a quality folded katana for looks,toughest,sharpness. in the 750- 1000 dollar range. I want to learn how to properly use and cut with it. Also any recommendations on schools in Phoenix AZ area would be appreciated.


Of these two katanas which would you choose?
Imperial Forge Limited Edition Folded Steel Katana IF1000LTD.
Hanwei 30th Anniv. Musashi Katana PC2490. I like a simple theme and more traditional blade shape.
All opinions and help welcome. Thanks, Al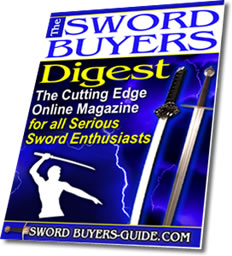 Sword Buyers Digest Newsletter!

Sword Buyers Digest Newsletter

Sign Up to Our FREE Monthly E-zine for all the latest sword news, info and much, much more! Click here for more info.