Info on viking sword
by Michael
(Oregon)
This was purchased for about $600 and feels and looks great. The steel seems to be high carbon and it just looks and feels very real as opposed to fake junk. But the only marking is a very small engraved word "Italy". It was described as a museum replica ( a good thing?) - and it does seem real. Is there any way to find out more about this sword based on so little information written on the sword itself? Any information appreciated.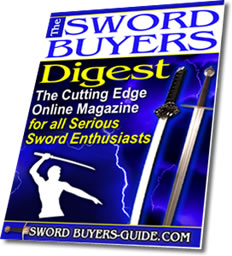 Sword Buyers Digest Newsletter!

Sword Buyers Digest Newsletter

Sign Up to Our FREE Monthly E-zine for all the latest sword news, info and much, much more! Click here for more info.