Japanese Sword Quiz

Test your knowledge with our Japanese sword quiz.
There are 11 questions in all, including multiple choice, true and false and mix and match the answers.
You only have 2 minutes to complete the test with a countdown timer in the corner and one extra chance to try again if you mess it up, so if you need to look the answers up online - you won't be able to complete the test in time..
And if you pass (a score of 70% correct answers or more) you get a certificate with your name on it to prove you really do know your Japanese swords!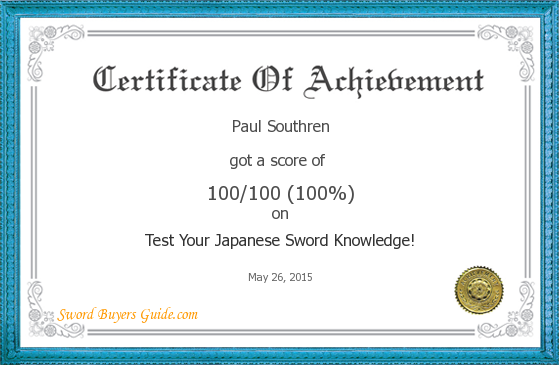 Have fun and good luck!!
Take our Japanese Sword Quiz

Not working? Click the link above to open on its own page.

---
We hope you enjoyed our Japanese sword quiz. To return to A Beginners Guide to Buying Authentic Japanese swords from Japanese Sword Quiz, click here


Buying Swords Online Can Be

DANGEROUS!



Find the Best Swords in the:
Popular & Recommended ARTICLES

---
---