Just a Comment
I wanted to thank you for putting out a no nonsense guide to swords. I have been asked many questions about the best none expensive cutters and practice swords but how could I answer? I have not used or evaluated all the offerings available. Your site has given input from people who own the sword, who tested the swords and is a great tool on the internet for sword enthusiasts. Thanks for getting it done and doing it right!


ANSWER:
Thanks! :-) There's still a lot more work to be done, but I'm glad you are getting some value out of it so far.
Cheers,
- Paul
Paul Freeman
Senior Level Instructor
Matsumura Shorin Ryu Karate
http://shorin.info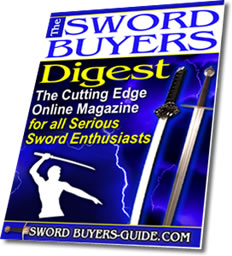 Sword Buyers Digest Newsletter!

Sword Buyers Digest Newsletter

Sign Up to Our FREE Monthly E-zine for all the latest sword news, info and much, much more! Click here for more info.