kaze katana + sbg site (amazing)
by Gio Castillo
(Ontario, Canada)
Just got the sword a few days ago and it was everything I was expecting just as the review said. The site was very good guide in helping me choose my first katana =) After wanting a live katana of my own for about 4 years now I finally bought the Kaze katana with the help of the site. I was looking for a nice sword with a real hamon but also the ability to cut if I choose to so it was perfect for me and the price was just so fair =)


As for the service, Paul was just soo helpful with everything and kept me up to date with when the sword would arrive and any other questions that I had for him. If you are looking for a sword of your own I would highly recommend reading some reviews from the site and checking out what the sbg sword store has to offer.
Thanks again and I wish you and the site all the best. I most likely will do business again once the cheness tantos are up for sale =P Take care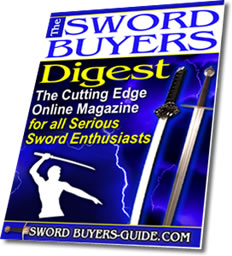 Sword Buyers Digest Newsletter!

Sword Buyers Digest Newsletter

Sign Up to Our FREE Monthly E-zine for all the latest sword news, info and much, much more! Click here for more info.