Kaze Katana
by By Scotto
(Moyock, NC)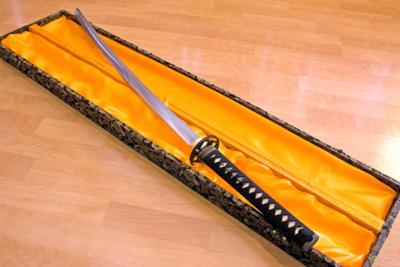 Kaze w/black Ito
Paul,


My sword arrived yesterday! It is beautiful! I really can't believe how nice it is for the price. The only blemishes where one small ding (less then .5") in the Saya that looks like it was there before the finish was applied because there is no defect in the high gloss finish. And, the Tsuba had a few tiny spots where the black had been rubbed off along the outside edge. When I say tiny I mean extremely tiny. I just used a black marker to touch it up to where you can't see them. I was also surprised at the smooth finish on the Tsuba. All the pictures on-line show it with a rough textured looking finish. Mine is very smooth with no rough spots at all.
OK, on to the blade...it is perfect! I did not expect such a high level of polish since this sword is already below $300 and is differentially hardened. The blade is almost as shiny right out of the box as my stainless steel "wall-hanger." The Hamon is very nice and a lot more predominant then I expected. On mine it is very easy to see regardless of the lighting for the most part. I have cleaned and re-oiled the blade and I did not find any nicks or blemishes. Yes, it is as sharp as a razor like everyone has indicated. It had no problem slicing unsupported paper like a razor. The finish is perfect! Pictures do not do it justice, you must see it up close to really appreciate how nice this blade looks. I can't wait to test it out.
On initial handling, the swords feels very solid! The Ito is tight and very evenly done. I love the simple and clean flower pattern on the Fuchi and Kashira even there the level of detail is well above the sub $300 mark.
This has been a great buying experience! I am extremely happy with my purchase!
Thanks,
Scotto