KoA has mixed reviews, luck of the draw
by brett
(cleveland)
I had always heard good things about KoA. It says that they have Quality Control and that they inspect things before they go out. how they are not a drop sight and have everything that says In Stock in stock. So i took the chance and ordered a Ronin Katana Dojo Pro. While it did come in a timely manner (within the week that i ordered it) the package was beat to hell. i blame that on ups. but then i took the sword out. it rattled in the scabbard like nothing else. i own cheaper swords with tighter all around fittings. mainly musashi. in my experience Musashi Swords makes the best Chinatanas around. everything ive gotten from them is tight everywhere. and if it wasnt i could mix and match the fittings for the perfect fit, a benefit from ordering from the same company. but back to KoA, the blade itself could even be felt rattling in the hilt. when i asked KoA about this i got a long excuse about sub 300$ swords and other sites as drop sites and blah blah blah. that they dont take the swords out and swing them around. but dont they still take them out and at least look at them or shake them? i heard the rattling without even doing any of that. since others have said many good things, i took the chance, but it seems that when ordering from them, it is the luck of the draw as to which quality you will get. could be good could be terrible. id rather go with a company i know does good things and is prompt. also a company that actually uses the things they sell. for me its Musashi Swords and SBG. SBGs make your own katana is freakin sweet!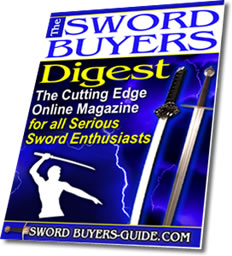 Sword Buyers Digest Newsletter!

Sword Buyers Digest Newsletter

Sign Up to Our FREE Monthly E-zine for all the latest sword news, info and much, much more! Click here for more info.