KOA - The Go to Place for Swords
by Tom McG
(USA)
Have ordered following swords from KOA:


Windlass Steelcrafts Cobra Steel Xiphos
Windlass Steelcrafts Qama
Kris Cutlery Baselard
Generation 2 Norman Practical Sword
Windlass Steelcrafts Hoplite Sword
All arrived well packed in perfect condition and within two to five days of placing the order. They also have the best prices. Definitely the 'go to place' for buying a sword.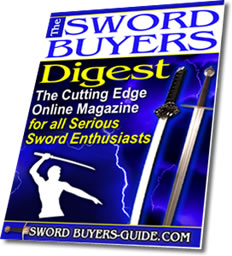 Sword Buyers Digest Newsletter!

Sword Buyers Digest Newsletter

Sign Up to Our FREE Monthly E-zine for all the latest sword news, info and much, much more! Click here for more info.