Kopis and Seax Machete Cutting Tests!
DISCONTINUED
This sword has been discontinued and is no longer in production or available, but is preserved on the site for informational purposes.

This review of the Cold Steel Kopis and Seax Machetes might be light on the words, but as they say - a picture is worth a thousand words, so here's around 6,000 words worth (and I'm only half kidding, as you will see - the results are pretty self explanatory).

---
Cold Steel Machete Tests
Tests by Robert Betts, Valley, USA

---
I thought I'd post some pics of the new Cold Steel Kopis and Seax machetes. I'm a big fan of seaxes, and heck, who wouldn't want a decent sword like the one from 300? Mine are the 18" models.

I took them out cutting, on a target a lot tougher than they were probably designed for: my battered old shield. Here's the results. In the pics with multiple cuts, the cuts are l-r and top to bottom, seax then kopis.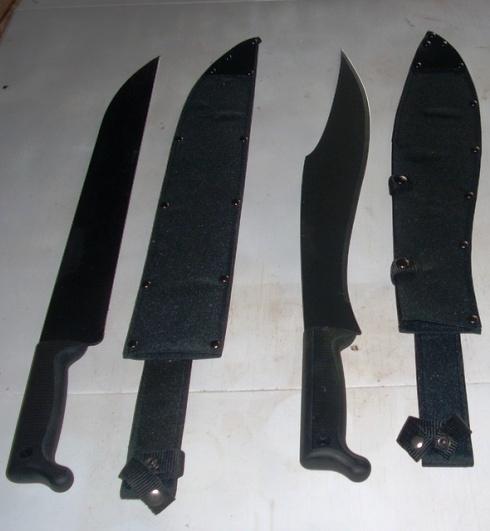 The Seax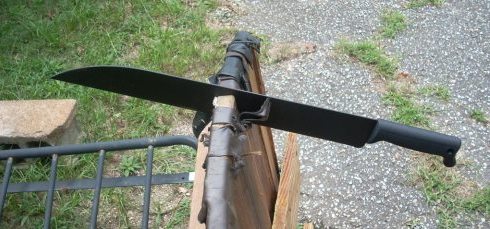 The Kopis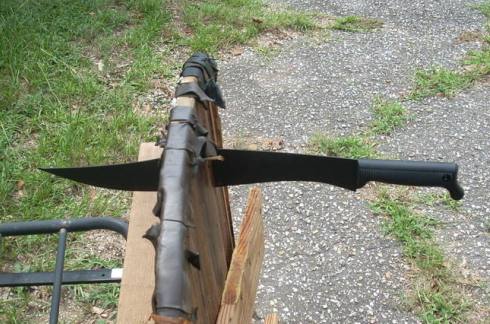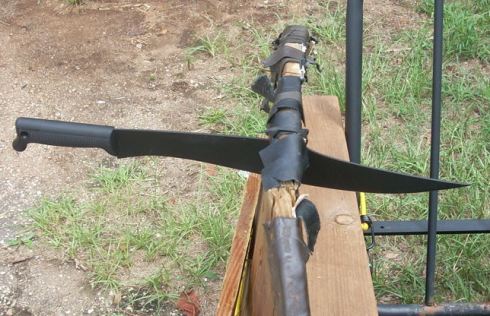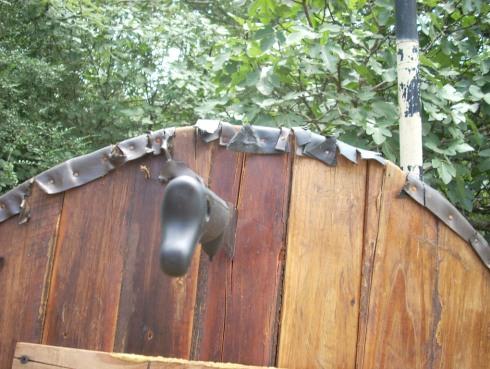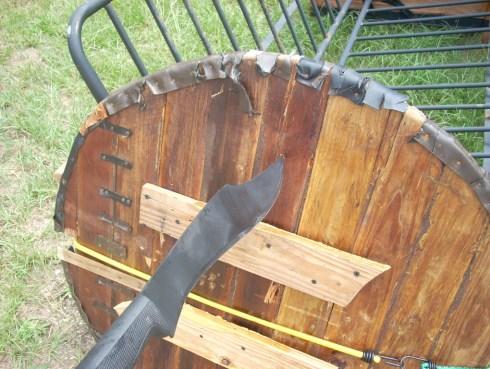 I think both Cold Steel's are well worth the cash spent, and either would make a great project blade. None of the three suffered any damage at all from these tests, other than the marring of the black oxide coating on the blades. These things are tough... zombies beware!

WHERE TO BUY
Cold Steels experiment with various historical machete was quite short lived - perhaps not appealing to either collectors with interest in the historical swords they are based on and not capturing the attention of the tactical sword market generally. 
As such, they were soon discontinued and now can only be found occasionally on the secondary swords market.

---
I hope these tests of the Cold Steel Kopis and Seax Machetes has been helpful. To return to Slicers, Scimitars and Choppers, from Kopis and Seax Machete Cutting Tests!, click here

Buying Swords Online Can Be

DANGEROUS!



Find the Best Swords in the:
Popular & Recommended ARTICLES

---
---