Koto Katana "Black Damascus 1065"
by Marko
(Serbia)
I've been meaning to buy this sword but I'm not sure. It says it was once made of 1045 carbon steel but now it's 1065. The price stayed the same which is 310$ ( it's probably 20-30% cheaper in your country ). It also says it can be compared to some 600$ swords. Is that possible? Did you ever come across a sword like that?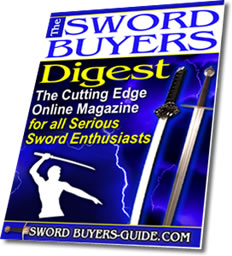 Sword Buyers Digest Newsletter!

Sword Buyers Digest Newsletter

Sign Up to Our FREE Monthly E-zine for all the latest sword news, info and much, much more! Click here for more info.