Last Samurai Crap? not at all ;)
by Robin Ferger
(Akershus, Norway)
I did a very harsh review on Musashi and KOA, however I got to test it more and it works awesome! Everything is good apart from small stuff with the handle. Why it didn't do anything as suspected was because it had a different type of edge than the usual katana and therefore could cut some objects but not others.


Great service, my package shipped within the first 7 hours and arrived in Norway at friday. The package was ordered wednessday.
At monday the Norwegian post office sent the package out and on thuesday I picked it up happily and excited.
The package came lightning fast and everything was intact.
I look forward to cut even more in the future :-)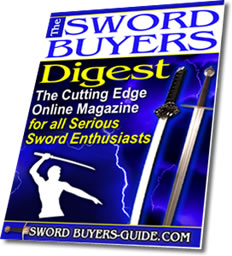 Sword Buyers Digest Newsletter!

Sword Buyers Digest Newsletter

Sign Up to Our FREE Monthly E-zine for all the latest sword news, info and much, much more! Click here for more info.