Longship Armoury Furia Sword of the Apocalypse

No Longer Available

The Furia Sword was a limited edition piece of only 20pcs to ever be made worldwide and is no longer available to order. But the review is kept here for posterity and to give you some idea of what one of Longship Armouries limited edition swords is like.

Longship Armoury was started in 2011, though its precursor - Odinblades had been around for 21 years earlier - and is a collaboration that started on the SBG forums with James Fang and legendary sword smith, John Lundemo..

In late 2015, while visiting Lancelot Chan in Hong Kong for some sword testing, Lancelot mentioned he was a good friend of James and suggested that they might be interested in a collaboration with SBG to produce a limited edition sword..
We threw some ideas around, and soon settled on a theme - a fully functional fantasy sword from a dystopian, post apocalyptic future. Kind of a "Mad Max" styled sword or "zombie apocalypse" blade with an oriental flavor… 
John Lundemo based the original design concept on a Chukoto Shinobigatana -  short straight blade and chisel tip, tsuba, bo-hi fuller and then introduced a peened pommel for maximum structural integrity beyond what any Japanese sword had ever seen - a truly futuristic, East meets West sword..

The original design draft
Soon enough, this rough design started to take shape - and Lancelot Chan and I made plans to meet up again in Hong Kong to test it once the prototype was completed..
BEHIND THE SCENES AT LONGSHIP ARMOURY - FORGING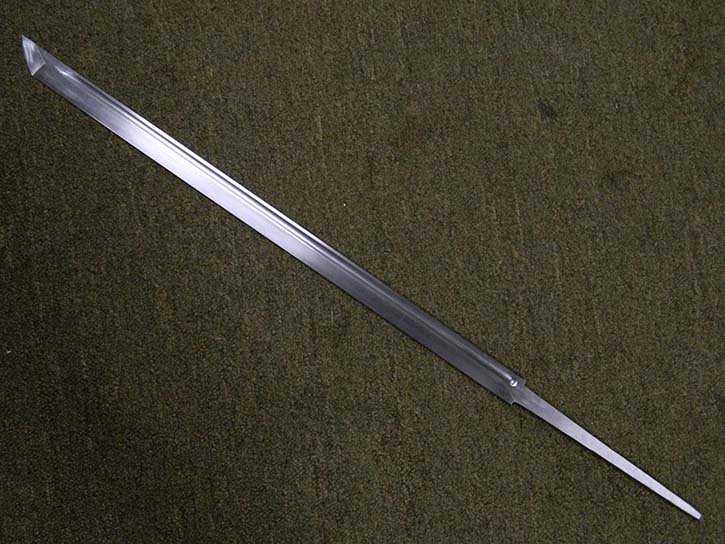 It took about 3 months to create the original prototype. Here are some pics from the Longship Armoury Forge showing the blade and fittings taking shape: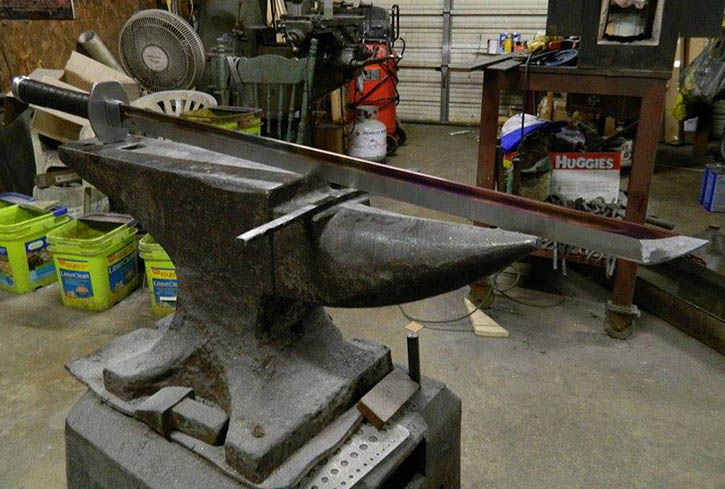 In order to fix any warps or ripples from the heat treat, the affected areas are torched to get them back to straight. The process results in the heat coloring of the areas hit by the torch.
The basic method used by John to create his swords is to use a bandsaw to cut out the basic shape of the blade from a solid barstock (usually either L6, A2 or S7), grind out the blades profile, heat treat and make and assemble the fittings.

As mentioned, this particular sword has a peened pommel for extra durability, and the wound leather grip is burnt onto the steel to ensure it will never come off and give it that "apocalyptic" feel we were aiming for.
Originally we were going to make the sword out of L6 tool steel, but in the end decided on an even MORE durable steel, S7 Shock Steel, which is extremely notch resistant, making for an exceptionally tough sword.
Here are the stats on the completed Longship Armoury sword:

Blade Length: 27.25"
Hilt Length: 9"
Point of Balance: 3.5"
Weight: 2lbs 7oz
Thickness: 6.7mm to 3.8mm at the tip
HRC: Approx 57HRC
The sword was also designed to come with a Kydex Sheathe designed to be slung out of the way over the shoulder when not in use.
The sheathe has 1/4" eyelets and a rifle sling included. The top two eyelets are spaces so as to fit a Tek-Lok. The surface texture has been distressed by shaping the kydex in the forge, as if there was limited electricity in the post-apocalyptic future and thus no large electric oven available for typical kydex shaping.
With the clock ticking, there was not enough time to get the sheathe made before the testing time rolled around. But it did not matter much, the completed sword itself looked much better than the in progress photos suggested it would be..
FIRST IMPRESSIONS

Lancelot received the sword ahead of my arrival in Hong Kong, and tested it with Rockwell hardness files before we did any cutting with it - finding it was somewhere between HRC55 and 60 (likely HRC57). His initial impressions were it was extremely attractive in an appropriately Post-Apocalyptic style, solidly constructed and extremely fast in the hand.
As you can see, the blade is the classic Ninjato - 27.25 inches long with a 9 inch handle - making it very versatile sword suitable for one handed or two handed use.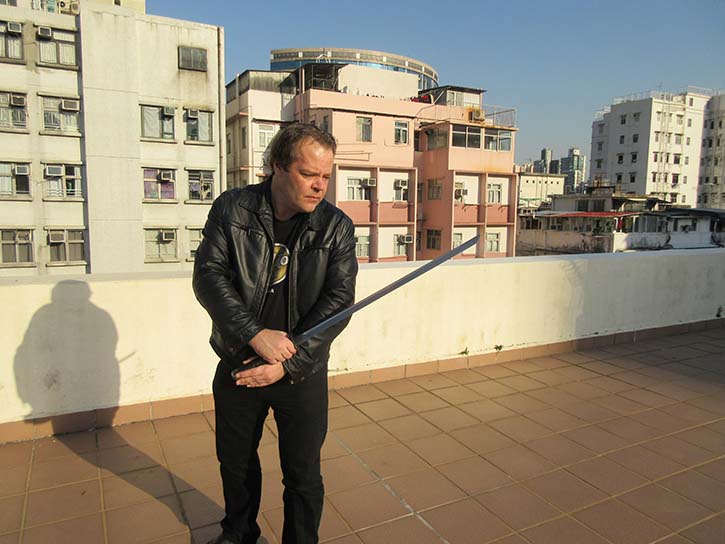 Indeed, this is one of the things I noticed about the handling - despite the weight being 2lbs 7oz, the point of balance is only 3.5 inches from the tsuba, and this, combined with the ever so slightly shorter than average blade and handle made it positively SING in the hand when swung..

In my time I have handled literally hundreds of swords from all kinds of cultures, time periods and styles. But this sword was perhaps my favorite in terms of how it effortlessly changed direction mid cut, and could be summed up in a single word - nimble.
Probably my ONLY criticism of the handling is that, despite having a bo-hi, it is not very deep and does not really make much of a sound when swung through the air. However, as it is a Ninja styled "Stealth Fighter" design, this may actually well be part of the design.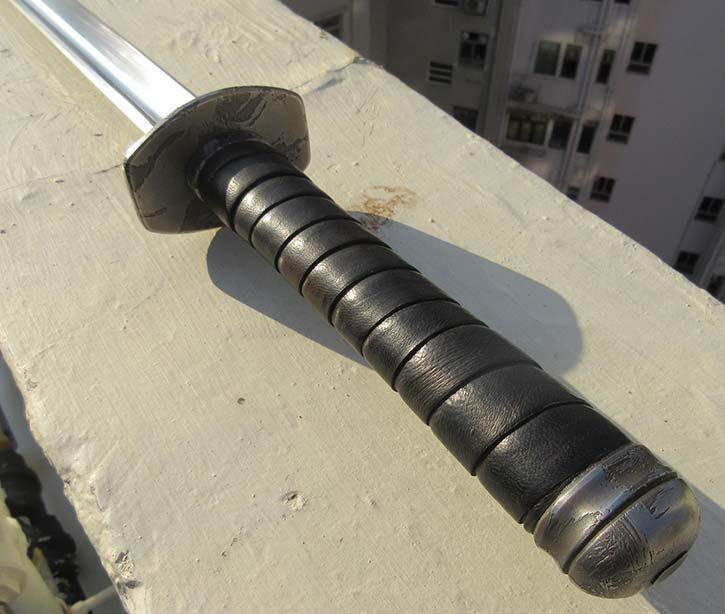 The handle itself is extremely comfortable - the leather is top quality and perfectly and tightly wrapped, meaning you could use this sword to take on a whole zombie horde without losing your grip or callousing the hand.
All the fittings are very tightly assembled with no wiggle anywhere whatsoever, and as mentioned, the pommel/kashira is peened for maximum durability - which in a post apocalyptic world where spending downtime with the sword disassembled for regular maintenance would be a HUGE no no..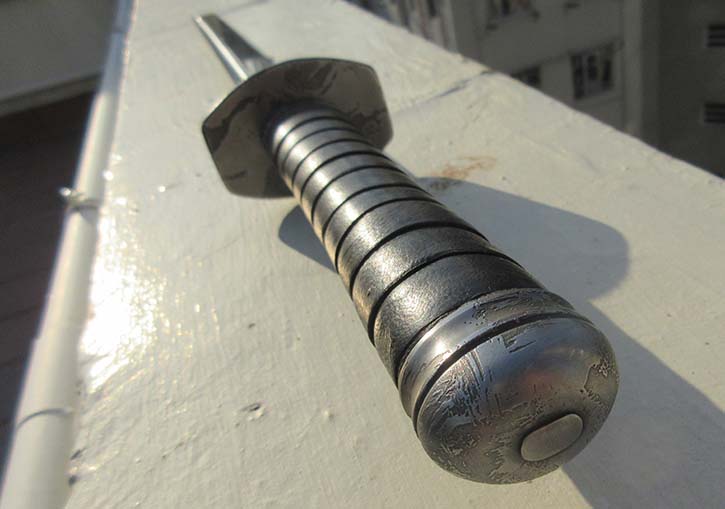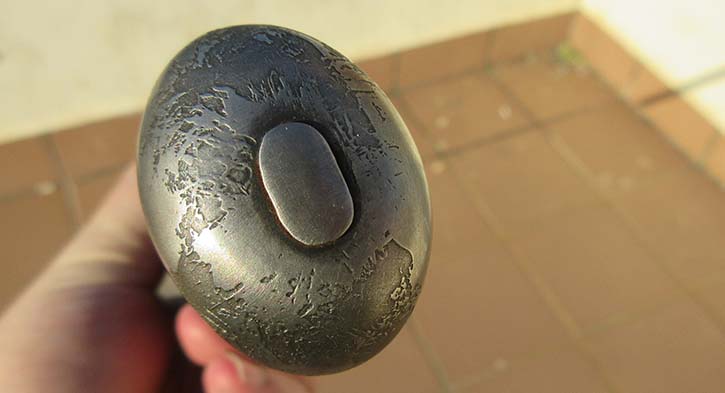 The fittings - tsuba, habaki and kashira - are all custom made from solid steel with a distressed "scarred" pattern..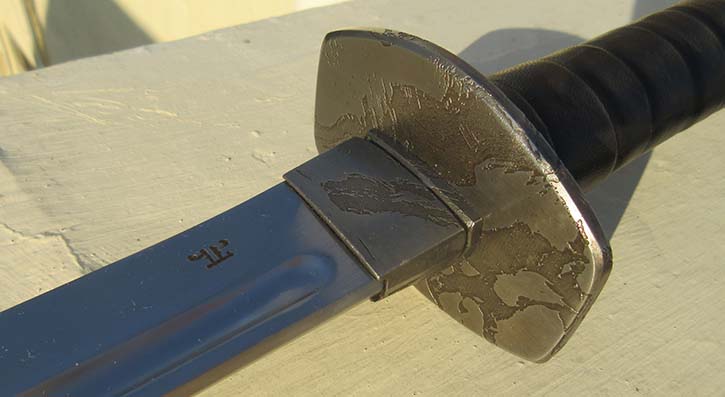 Clearly a lot of time and effort was spent on ensuring the best possible fit and finish - there were no large gaps, as each component was made specifically for this particular blade - no wiggle.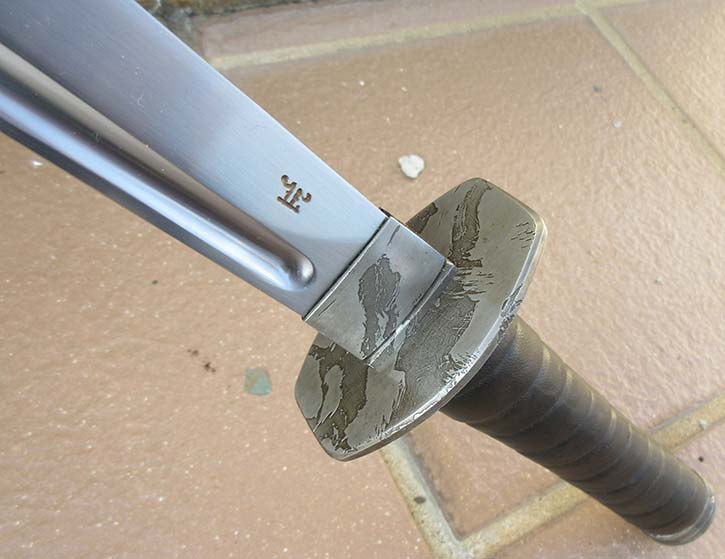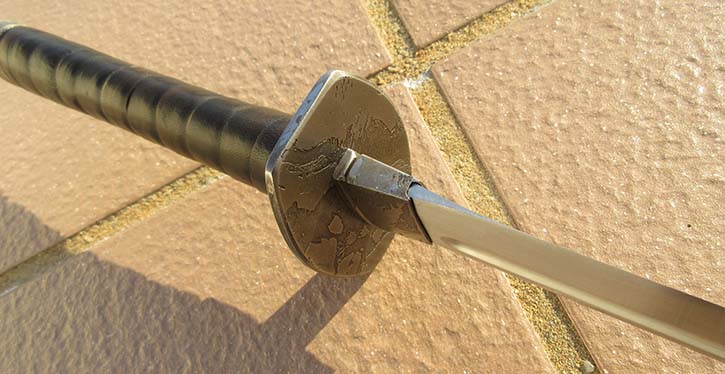 In short - the construction, like all Longship Armoury swords, was flawless as expected.
THE BLADE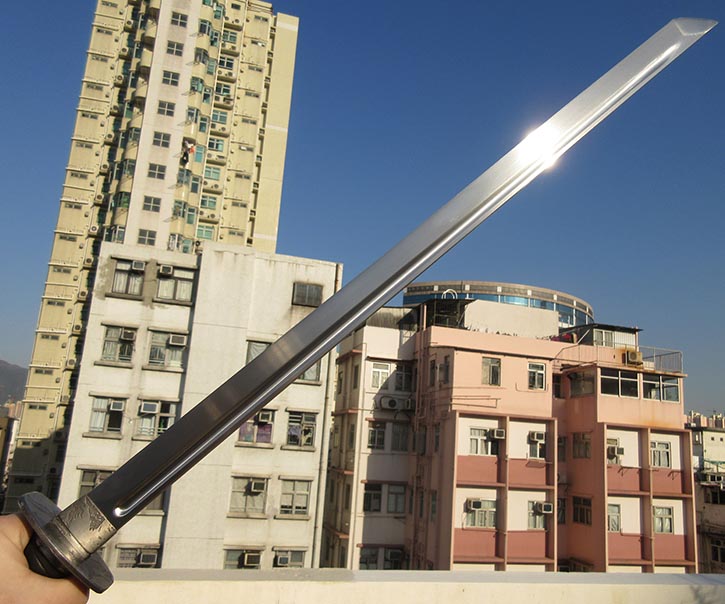 Longship Armoury and John Lundemo have always had a reputation for exceptionally tough, durable, sharp and deadly effective blades - so it comes as no surprise that Furia is about as close to perfection as any sword can possibly be..
For a start, it is perfectly straight - and it is clear that a great deal of effort has been made to create the best blade geometry possible.

Being monotempered, there is no hamon and the finish has a utilitarian but extremely attractive satin finish - allowing you to use the blade on a wide variety of targets without fear of creating unsightly scratches.

The bo-hi is perfectly straight and terminates before the handle to minimize any liquids getting in and pooling under the tsuba.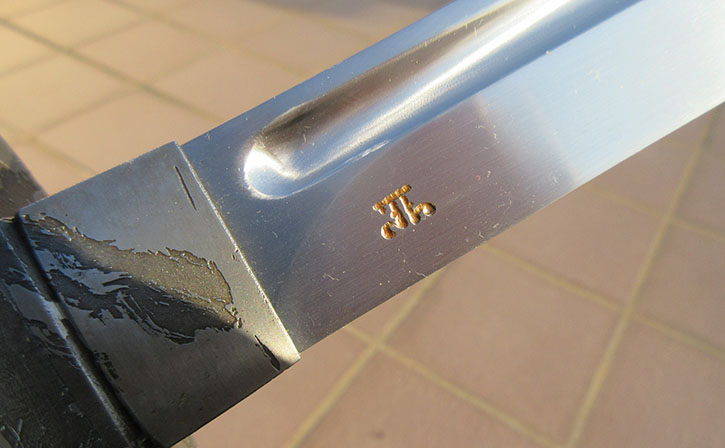 The only detail is the Longship Armoury Makers Mark, John Lundemo's initials which are engraved into the blade and reveal the color of the tempered S7 shock steel beneath.
It was very hard to find anything wrong with this blade - it was consistently sharp, nicely polished and without and lumps, twists or any other microflaws. But if I had to nitpick, the only part of the blade that was less than cosmetically stunning was the kissaki/tip.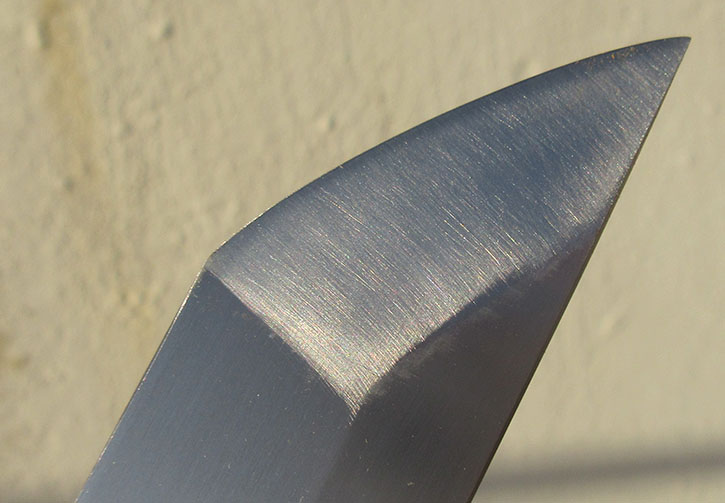 While there was no questioning the functionality and sharpness, the counterpolish was not as attractive as the satin finish on the rest of the blade and could have perhaps been finished a little nicer.
Otherwise though, I had no complaints - indeed, feeling this blades incredibly agile handling - I could hardly wait to start testing it out. Especially as we had gathered a couple of new and very interesting targets..
PUTTING THE LONGSHIP ARMOURY FURIA TO THE TEST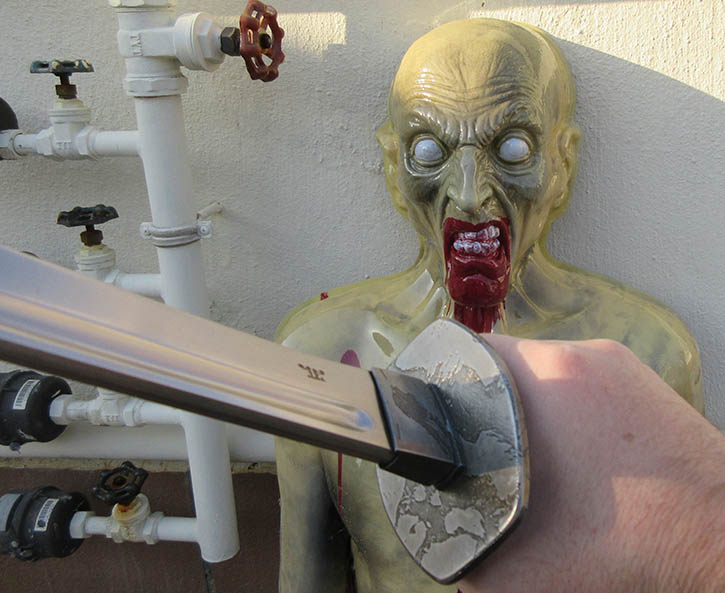 We spent the entire afternoon putting the Longship Armoury Furia through its paces - and it performed at least 100 cuts on targets ranging from waterfilled bottles of different sizes and densities, thick bamboo, and a new target for us - zombie targets from ZMB industries..!
We will come to the zombies in a moment, but below is a video of our tests on more standard targets - though we threw in a bit of a curve ball with cut resistant Kevlar wrapped around a waterbottle just for fun..
As you can see, the sword was a true slicer and dicer - and even one handed was well balanced and sharp enough to cut and pierce a variety of targets without breaking a sweat.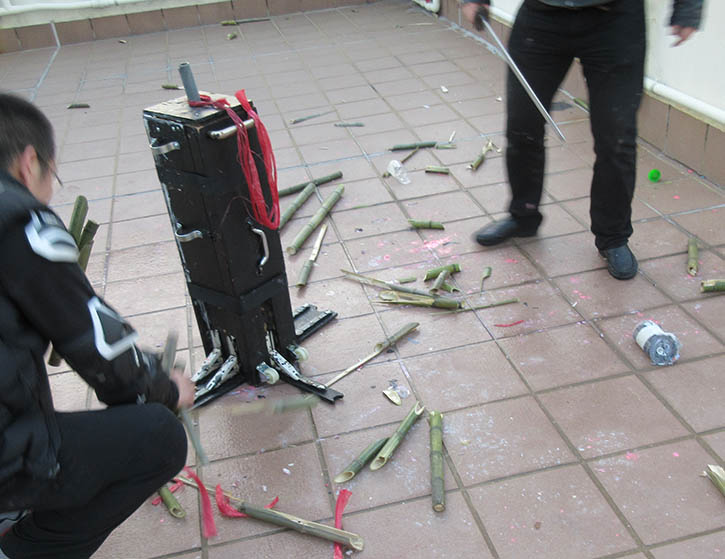 But the target we clearly had the most fun cutting, and the target most suitable for a sword designed for surviving a zombie infested post apocalyptic future, were two life size realistic zombie training targets from ZMB industries..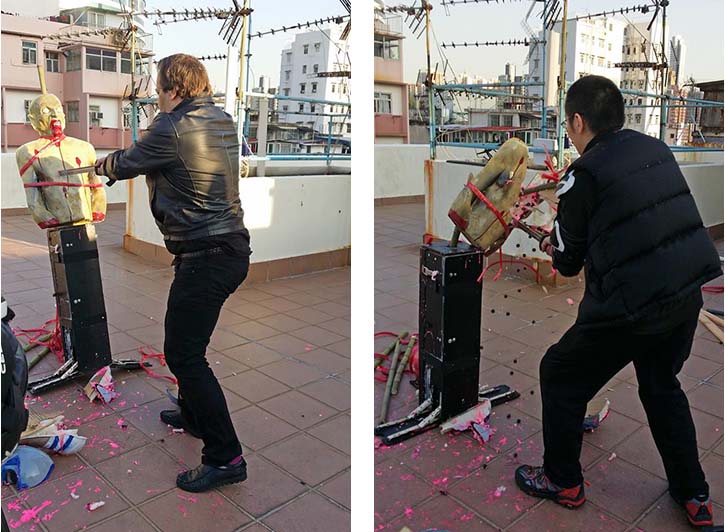 Because these targets were quite expensive (around $80 each) we tried to get the most bang for our buck out of each target, starting with thrusts and moving on to deep cuts designed to get another couple of good slices in before the target was completely decimated..
And despite being made from quite tough materials (dense foam with hard plastic coating and thick "blood" filled eyeball like pellets - designed to take over 1000 rounds fired into them without coming apart) every cut either took off an arm, a head, or sliced down diagonally through the shoulder, the bamboo pole holding it up, and almost out the other side..
As you can see from the video we clearly had a lot of fun.. Maybe even, just a little TOO much fun..
I especially liked the way the swords accuracy - I was able to pick a target such as the nose or an eye and hit it with minimal effort. And it was the same with cuts - heads came flying off, bodies were cleaved in two - and the bamboo spine, despite being theoretically harder to cut with all the foam, plastic and everything else slowing it down, was cut cleanly in half every time the blade touched it..
And after all the cutting, the blade was as sharp, as straight and as unblemished as when we first picked it up..
CONCLUSION
The Furia by Longship Armoury is truly a limited, one of a kind design - fusing the best of modern steel and sword making techniques by a true legend of the industry with an ancient "tactical" sword design - the Chokuto. It takes many different elements, with a super tough S7 shock steel monotempered blade, Japanese inspired tsuba handguard and kashira and then peens it using a European technique making it supremely tough and durable.
It is designed to be utilitarian, and it succeeds in this design and then some.. It truly has to be handled to believed just how agile and responsive this sword is. Multiple cuts are a breeze, indeed I often found myself hard pressed to do just a single cut because this sword just felt like it wanted to keep on going, and this was the origin of its name - Furia..
Being limited to only 20 pieces worldwide and made by hand with blood, sweat and tears by a true Legend of the sword industry in the USA, it may be sold out by the time you read this review - but the review will be kept here for posterity so that the owners can always refer back to this little bit of SBG and sword industry history - and to showcase the kind of sword John Lundemo and the Longship Armoury can make..
With fewer and fewer skilled smiths like John these days, especially smiths who can actually deliver what they promise, this truly is a unique blade - and if you are one of the lucky 20 people who gets a chance to own one, you will know exactly just how cool Furia really is..
PROS
Amazing attention to detail and hand made in the USA
Perfect assembly and peened pommel for extra durability

Incredibly tough and durable S7 shock steel blade
Nimble, agile and super fast blade
Unique, rare and limited edition fully functional collectible
CONS
Counterpolished kissaki/tip is a little rough

---
I hope this review of the Longship Armoury Furia Sword of the Apocalypse has been informative and entertaining. To return to Tactical and Zombie Swords from Longship Armoury Furia Sword of the Apocalypse, Click Here


Buying Swords Online Can Be

DANGEROUS!



Find the Best Swords in the:
Popular & Recommended ARTICLES

---
---