Loose Fittings
by Alex
(South Carolina)
I have a Masahiro Cherry Blossom. After a little while of use, I noticed the tsuba was becoming loose. It wasn't terrible loose, but it did rattle when it struck the intended target.


In order to fix it, I simply took a piece or corrugated cardboard and cut out the proper size, then cut it in half to make it a tid bit thinner. Problem solved. It's been months since I've done it, and it worked great.
Join in and write your own page! It's easy to do. How? Simply click here to return to Sword Care Tips.

Looking for honest, trustworthy sword sellers? Look no further than:

FEATURED ARTICLES AND REVIEWS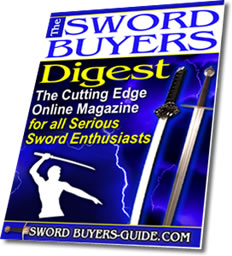 Sword Buyers Digest Newsletter!

Sword Buyers Digest Newsletter

Sign Up to Our FREE Monthly E-zine for all the latest sword news, info and much, much more! Click here for more info.