Low price, but quality is not great.
by Rodney
(Texas)
Have ordered from Kult of Athena over the years, and they use to be great, but I think with the increase in inventory, their quality control has slipped.


Will think twice before ordering again. The prices can be beaten by other sites now, or very close to it, and the quality and service is better, particularly european sites even with the extra shipping!
Join in and write your own page! It's easy to do. How? Simply click here to return to Kult of Athena.

Looking for honest, trustworthy sword sellers? Look no further than:

FEATURED ARTICLES AND REVIEWS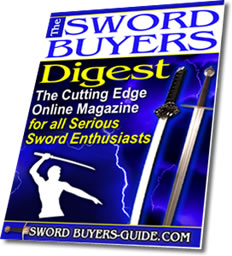 Sword Buyers Digest Newsletter!

Sword Buyers Digest Newsletter

Sign Up to Our FREE Monthly E-zine for all the latest sword news, info and much, much more! Click here for more info.