Deepeeka Maintz Gladius Review
The unsharpened Maintz Gladius by Deepeeka is actually one of the most historically accurate budget replica Roman swords currently on the market. But will it stand a close inspection and some good old fashioned durability testing?
Here we took a closer look with SBG's Roman sword reviewer, the late Richard Williams, for some answers...
---
Deepeeka Maintz Gladius Review

Review by Richard Williams, Evansville USA
---
Steel

Weight 

Point of Balance 

Price Range


5160 Spring Steel

2lbs 5oz

3.6" from guard

US$214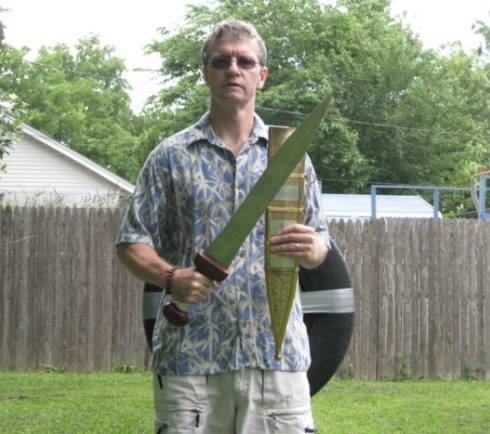 I had been eyeing this Gladius for a while. Deepeeka offers a wide range of gladii and I have a fondness for the type. I had handled one of their older models previously and was wondering if they had made any improvements. So when Mr. Paul Southren offered me the opportunity to review one of Deepeekas ancient blades (as a member of the SBG review team) I chose this one.
This model is one of their newer pieces.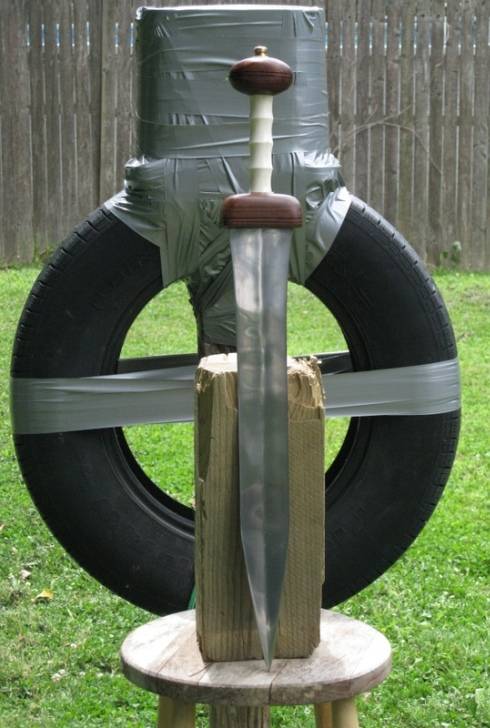 The sword felt solid and easy to use upon dry handling. The grip felt about the right size in circumference for my smaller hands (ring size 8 1/2).
This sword sells for $214.95  HERE at Kult of Athena plus $10.43 shipping. As usual with KoA shipping was fast.
When I removed the piece from the package my wife said "that's humongous!". This was my first impression also. It is the largest Gladius I have handled thus far. It is my first one of the Mainz style and after doing some reading up on it, I learned that the Mainz Gladius is usually larger than the Pompeii (which I am more familiar with). Still I think the fittings are a bit larger than usual and the grip too long.
Here is the sword in hand.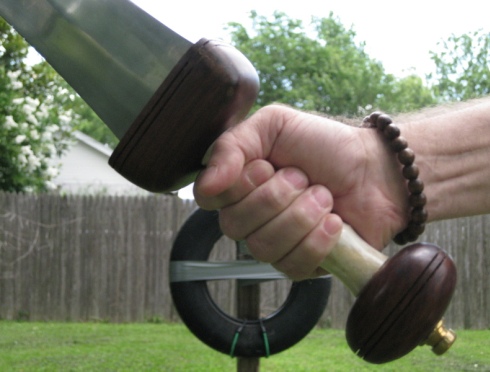 Here I have displayed the Deepeeka (middle) with the KC (your left) and the Gen2 (your right), for size comparison.
The guard and pommel are made of hardwood and the grip is bone.
The tip is rather pointy.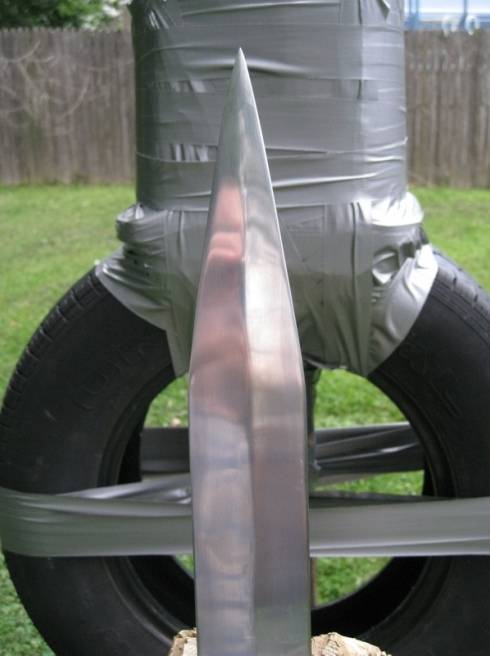 The scabbard seems bulky to me, it weighs as much as the Gladius.
The rear is leather.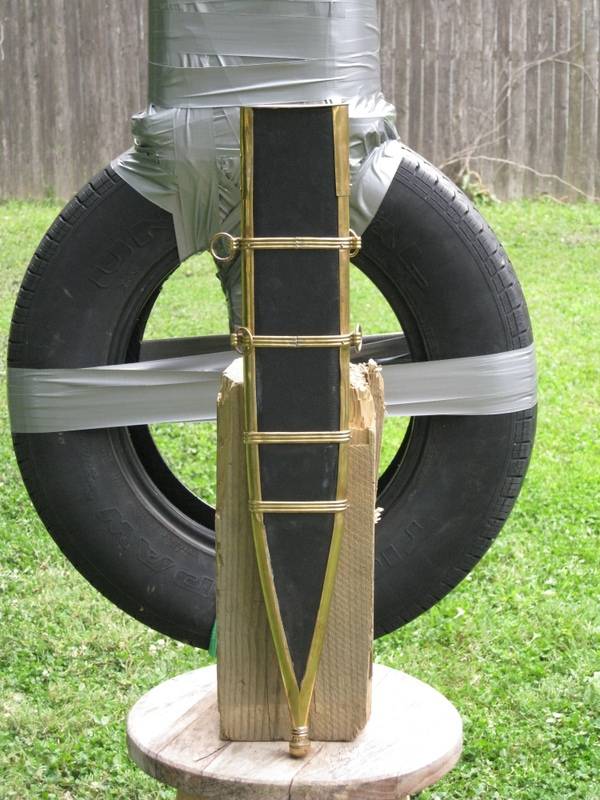 Some stats;
Overall length - 29 in.
Blade length - 20 3/4 in.
Blade width - 3 in. at the guard, 2 5/16 at the waist.
Blade thickness- 3/16 in. along the spine, 1/16in. on the edge.
POB - 3 1/2 in. from guard. Grip length - 4 1/2 in.
Pommel - 3 in. wide, 1 1/2 in. long and 2 1/4 in. thick.
Guard - 3 1/2 in. wide, 1 1/2 in. long and 2 3/8 in. thick.
Tang - 5/8 in. wide, 3/16 in. thick.
Weight - 2 lbs.
The sword arrived unsharpened as usual with Deepeeka and I did the testing as it arrived. (So no cutting). I did give it a work out to test it's durability and thrusting ability.
VIDEO: Testing on a Tire Pell

Overall, it holds up very well
The Gladius held up well to the pounding on the pell and exhibited no looseness after. It thrust better than I expected, puncturing the target with medium effort.
The blade has little flex, tho with minimal effort I was able to bend it a bit out of true. The metal feels a bit "soft".
Disassembly wasn't as easy as I thought, the pommel cap screwed off but I had to pound on the guard a bit to get a look at the tang, in so doing I broke the bone grip. There was some hard blackish substance holding the grip to the tang.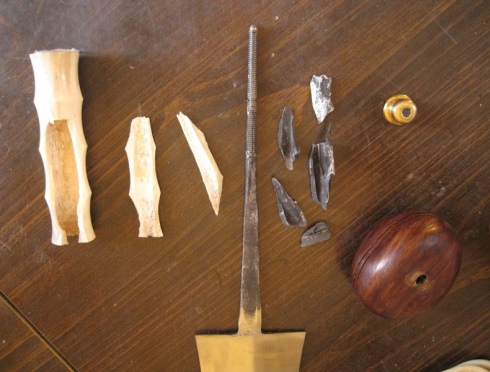 The tang looked sturdier than I had expected with no sign of welds.
While researching the historical accuracy of this sword, I ran across this forum. They are probably more informed on that subject than me:
http://www.romanarmy.com/rat/viewtopic.php?p=167451
(Editors Note: as the roman army forum requires you to sign up with them to read it, more casual readers may be interested to know that the general gist is that this Maintz Gladius replica is quite historically accurate – certainly more so than many other reproductions on the market - with the only criticisms being the grip being slightly too long and the mouth of the scabbard slightly too wide).
To sum up, I don't find this Gladius to be functional due to the "soft" blade and it not coming sharp. It may or may not be good for re-enactment (not really my area). As to the value, I have bought similar grade gladii for less than half the price of this one. However, I think it will make a good project blade.
Pros
Higher than average level of historical accuracy
Well assembled and solid/durable construction
Attractive brass plated leather scabbard
Cons
Slightly soft and untempered blade
Hard to disassemble (glued hilt)
A little expensive for an unsharpened blade

WHERE TO BUY
The best place to pick up the Deepeeka Maintz Gladius HERE at Kult of Athena where they are available for $214.95

---
I hope this review of the Deepeeka Maintz Gladius has been helpful. To return to Modern Replicas of Ancient Swords from Deepeeka Maintz Gladius Review, click here

Buying Swords Online Can Be

DANGEROUS!



Find the Best Swords in the:
Popular & Recommended ARTICLES

---
---