Masahiro Ryumon

Masahiro Ryumon is not so much an actual sword manufacturer, but rather a brand created by sword distributing giant Master Cutlery and made by several forges throughout the Longquan region of China.

Manufactured in:  Machine and Hand Forged in China
Steels Used:  1045 and 1060 carbon steel
Price Range:  US$40 – $300
Official Website:  Master Cutlery (wholesale only)
Typically well under the US$100 price point, their medium end offerings are re-branded as "Ryumon" and sell for around the $150 to $300 mark depending on the model while the cheaper swords are branded "Masahiro", though both are made at the same place and wholesaled by the same company in the USA.
As they are not truly an independent brand, no real warranty or further information tends to be readily available and warranties and returns are entirely dependent on the reputation of the stockist who carries the lines, making it especially important to only buy from well known, respected sellers.
MAIN PRODUCT LINES

---
MASAHIRO SWORDS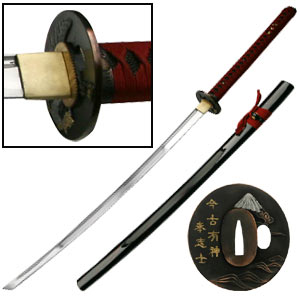 Since there is no central website (at least one that is accessible to non-dealers), the only place to find Masahiro's products is at the various vendors.
They produce not only katanas but assemble-yourself katanas, as well as fittings and a traditional cleaning/sharpening kit. However, products often have different names depending on where they are sold (ie the "White Ronin", AKA the "White Shadow" katana).
---
RYUMON SWORDS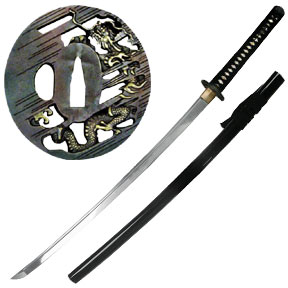 Made to a higher standard than their Masahiro brand, Ryumon are closely related to Masahiro but the blades are often differentially hardened (i.e. have a real hamon/temper line) and the fittings of better cosmetic appearance.
Their swords include numerous accessories, including a large pine box, a small 'users' manual (actually quite good – with instructions on how to maintain the sword and more), a certificate of authenticity (written as a scroll) and a cleaning kit to name the most common.
---
KNOWN ISSUES

The main issue with Masahiro seems to be Quality Control. One piece is great, the next is quite poor.
The fittings can have a tendency to be loose or improperly fitted (again, this is on a sword-by-sword basis), which can lead to dangerous results. Many of their swords are sold on ebay, and these could be great or lemons – you won't know until you unpack it.
Issues tend to be less common on the Ryumon line, and may only be as broadly reported because – with the Masahiro swords being sold at a very low price point – there are many more of them than other more expensive and traditional brands, however buying from a good stockist with a good return policy and customer service can allieviate many of these issues.
WHERE TO BUY MASAHIRO RYUMON

While these swords are widely available, and pricing fluctuates almost as widely, Trueswords.com tends to stock a wide range at extremely competitive prices and has the kind of reputation for customer service going above and beyond the call of duty, making their store an ideal place to browse and purchase these swords here
OFFICIAL SBG REVIEWS
---
I hope this information on Masahiro Ryumon has been helpful. To return to the Sword Manufacturers Dossier from Masahiro Ryumon, click here


Buying Swords Online Can Be

DANGEROUS!



Find the Best Swords in the:
Popular & Recommended ARTICLES

---
---