Medieval Long Sword Knight's Sword Chivalry Good or Bad?
by Benjamin (Con)
(Randolph)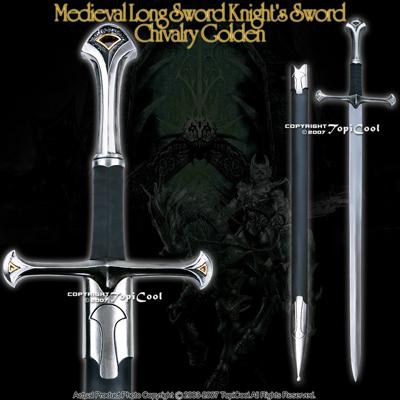 Here she is
QUESTION: I was cruising ebay when I saw it. It was about $40 bucks without shipping and i thought it looked awesome. but of course looks can be decieving. so i searched for reviews and found none. The site i found it on said it was a Carbon Steel blade but did not specify past that. I really like it but don't want to buy a replica.


Here's the site: http://www.topicool.com/sword/movie-replica-swords/medieval-long-sword-knight's-sword-chivalry-crusader-849.html
ANSWER:
Hi Randolf,
I haven't seen this particular model, and to be honest, I'm rather wary of it...
Often, especially if there is no independent feedback to prove or disprove it, if it seems to good to be true... Well, it probably is...
The reality is that there really aren't any half decent medieval or fantasy swords under the US$100 price point. Japanese swords are a different story, it is possible to get a functional blade for under US$100 (though still, rarely are they something amazing, but it does happen from time to time).
But yes, alarm bells are rining on this one for me. But if you wish to take the plunge - well, be sure to send me your review!
Best,
- Paul