My Kaze Katana
I have a the Kaze Katana, however it is nowhere near as sharp as displayed, and will have to get it sharpened, which makes me worry on the quality of how the blade can be sharpended - without damaging the quality/strenght of the blade, or it natural hamon line.


I actually love the plain fittings - simple not overdone, and certainly plainly attractive (I am a bit of a minimalist). I also love the shiny black piano finished scabbard.
I am also confused that the sword does not have that "ping" when the blade is struck - which is common for spring steel blades, this does make me question this element of its making.
Aside from that - I love the sword - but to yet get it sharpened professionally and kill some tatami mats myself.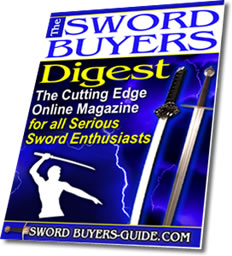 Sword Buyers Digest Newsletter!

Sword Buyers Digest Newsletter

Sign Up to Our FREE Monthly E-zine for all the latest sword news, info and much, much more! Click here for more info.