OLD meets NEW
by Mark Burress
(Marietta SC)
I have one word to say concerning rust care for high carbon steel blades:


That word??
EEZOX ---GUN AND KNIFE CARE.
This is the best stuff I have EVER used. PERIOD.
I've left carbon steel knives by Cold Steel in leather, ballistic nylon, kydex, wood wrapped in water buffalo hide, you name it...no rust, no gummy buildup. Buy yourself a can. Read and follow directions. You will be amazed! BTW: It's great for guns too!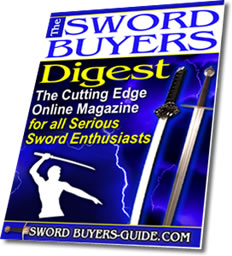 Sword Buyers Digest Newsletter!

Sword Buyers Digest Newsletter

Sign Up to Our FREE Monthly E-zine for all the latest sword news, info and much, much more! Click here for more info.