oniyuri
by Frances
(australia)
QUESTION:Hi Paul


I am based in Sydney and looking to buy 1-2 of the bujinkan oniyuri - blunted blade at this stage and live a little further down the track. However, cannot find anywhere that ships to Australia. any suggestions? great review and site BTW...
ANSWER:
Hi Frances,
Actually - I may be able to help. If you drop me a line via my
Direct Contact page I might be able to give you a quote.

I occasionally get some Cheness swords in upon request and the next shipment should be in early November. So yes, please drop me a line and we can take it from there.

Thanks,

- Paul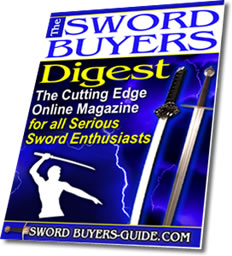 Sword Buyers Digest Newsletter!

Sword Buyers Digest Newsletter

Sign Up to Our FREE Monthly E-zine for all the latest sword news, info and much, much more! Click here for more info.