Pleased consumer
I ordered the Kaze because of a casual interest in japanese sword. With no formal training, I began cutting away and was blown away by the sharpness of the sword and ease with which it handled. Even an amatuer can cut through targets like butter. I enjoyed my first experience so much I am now training in Iaido reguarly.
Join in and write your own page! It's easy to do. How? Simply click here to return to Submit Review Cheness Cutlery Kaze Katana.

Looking for honest, trustworthy sword sellers? Look no further than:

FEATURED ARTICLES AND REVIEWS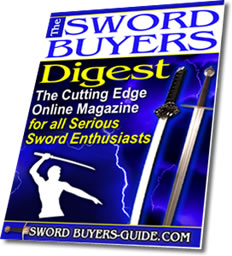 Sword Buyers Digest Newsletter!

Sword Buyers Digest Newsletter

Sign Up to Our FREE Monthly E-zine for all the latest sword news, info and much, much more! Click here for more info.