Purchase with caution
by Chelsey
(Tallahassee, FL)
I am having a very negative experience with Kult of Athena (although I purchased from them precisely because of all of the positive reviews they have received). I placed my order, received an order confirmation, and then never heard from them again. I did not receive a shipping notification, I did not receive the item I ordered. They did, however, charge my credit card for an item they never shipped. Now I'm e-mailing and calling them, but have yet to receive a single response. I seem to be the exception to the rule, and hopefully everything will be sorted out soon. I am definitely not experiencing the fast-reliable shipping that most of the other reviews talk about!!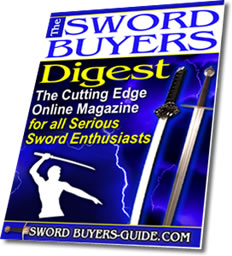 Sword Buyers Digest Newsletter!

Sword Buyers Digest Newsletter

Sign Up to Our FREE Monthly E-zine for all the latest sword news, info and much, much more! Click here for more info.