Qi Jian
QUESTION: I am seriously looking at buying this sword, I tried searching the forum but didn't find anything related to the Qi Jian and the search function wasn't really working for this sword.


I want to know if anyone has bought this sword and seriously used it for cutting or if it is just a display piece or what some of the general comments about this sword are.
Thank you,
Jason
ANSWER:
Hi Jason,
It is a very attractive looking sword and definitely sturdy. However, it isn't particualrly sharp - so if keeness of edge is something you are looking for, you may need to sharpen it yourself or look elsewhere...
Hope this helps.
- Paul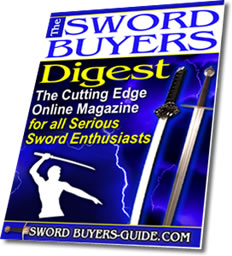 Sword Buyers Digest Newsletter!

Sword Buyers Digest Newsletter

Sign Up to Our FREE Monthly E-zine for all the latest sword news, info and much, much more! Click here for more info.