Quick Wipe
by Mike D.
(MA)
Well I enjoy cutting things, as every sword lover does. From my experience, people wait until the end of their cutting session to wipe off the sword. Well just to make things a bit easier, just take a towel and put it in your belt. After every cut, wipe off the blade. This way, at the end when you're cleaning the blade, there will be less dirt and residue from whatever you were cutting on the blade, and cleaning will be a breeze. Hope this helps!
Join in and write your own page! It's easy to do. How? Simply click here to return to Sword Care Tips.

Looking for honest, trustworthy sword sellers? Look no further than:

FEATURED ARTICLES AND REVIEWS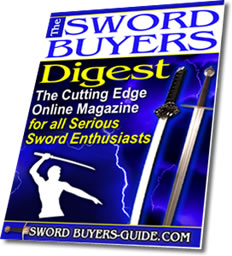 Sword Buyers Digest Newsletter!

Sword Buyers Digest Newsletter

Sign Up to Our FREE Monthly E-zine for all the latest sword news, info and much, much more! Click here for more info.