Real Deal on Shinwa Katanas..
by John
(Maryland)
QUESTION: Hey I know this question has been asked a lot, but I'm looking for a very clear and upright answer. Are you basically saying that Shinwa swords (or whatever other name they may be sold under) around $150-$200 are of the same quality of some of the $60 katanas you've tested? Or possibly of lesser quality?


ANSWER:
It would appear to be the case. The fact that BudK sell them really makes me wary of even trying them out...
I could be wrong, but from what my sources in the industry tell me, I don't think I am...
Kind Regards,
- Paul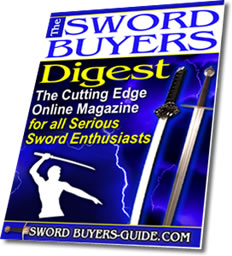 Sword Buyers Digest Newsletter!

Sword Buyers Digest Newsletter

Sign Up to Our FREE Monthly E-zine for all the latest sword news, info and much, much more! Click here for more info.