A Good Reproduction Celtic Sword

If you are looking for a reproduction Celtic sword that is reasonably historically accurate, THIS would have to be your best choice.
Your average Celtic reproduction sword often puts the anthropomorphic hilt on a leaf shaped blade - probably because it looks cool - but it has no historical basis. But this is not your average reproduction Celtic sword..

Made by Del Tin of Italy whose reputation for quite historically accurate swords precedes them, it is much more authentic than most other early Anthropomorphic swords of the La Tene period that are abstract hybrids at best or shapeless, overly heavy masses at worst - and is arguably the very best reproduction Celtic sword on the market - in terms of functionality and as an attempt to recreate what the origins actually looked like.

---
Del Tin 4th Century BC Reproduction Celtic Sword

Review by retired SBG forum global moderator, William Swiger

---

With the spread of the La Tene culture at the 5th century BC, iron swords had completely replaced bronze all over Europe. These swords eventually evolved into, among others, the Roman gladius and spatha, and the Greek xiphos and the Germanic sword of the Roman Iron Age, which evolved into the Viking sword in the 8th century.

There are two kinds of Celtic sword. The most common is the "long" sword, which usually has a stylized anthropomorphic hilt made from organic material, such as wood, bone, or horn. These swords also usually had an iron plate in front of the guard that was shaped to match the scabbard mouth. The second type is a "short" sword with either an abstract or a true anthropomorphic hilt of copper alloy.

Scabbards were generally made from two plates of iron, and suspended from a belt made of iron links. Some scabbards had front plates of bronze rather than iron. This was more common on Insular examples than elsewhere; only a very few Continental examples are known.

The Celts would often decorate the hilts with Amber, ivory or gold leaf as they put a high price on fine weaponry.

Statistics
Overall Length: 34''
Blade: 28.5''
Weight: 1 lb 13.7 oz
P.O.B.: 7 1/8''
Thickness: 4.5 mm - 3.1 mm
Width: 1.8"
Grip Length: 2 1/2''
Assembly: Peened

Kult of Athena Description: The Del Tin 4th Century BC Celtic Sword features a long double edge blade with flattened diamond cross section. The hilt is made of hard wood with a cross hatch design and applied brass accents. The unsharpened blade is made of well tempered Chrome-Vanadium steel with a hardness of 50HRC and is peened at the pommel for durability.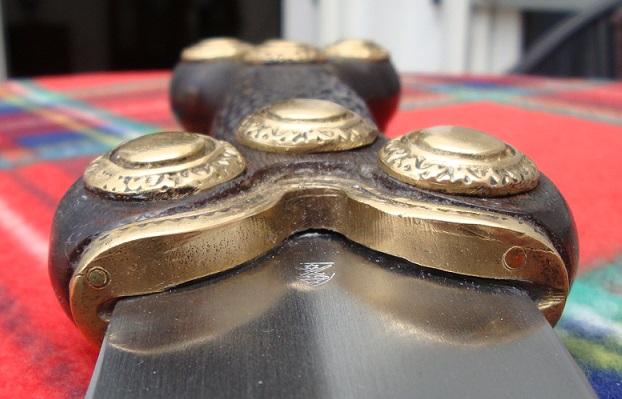 Decent fit between blade and hilt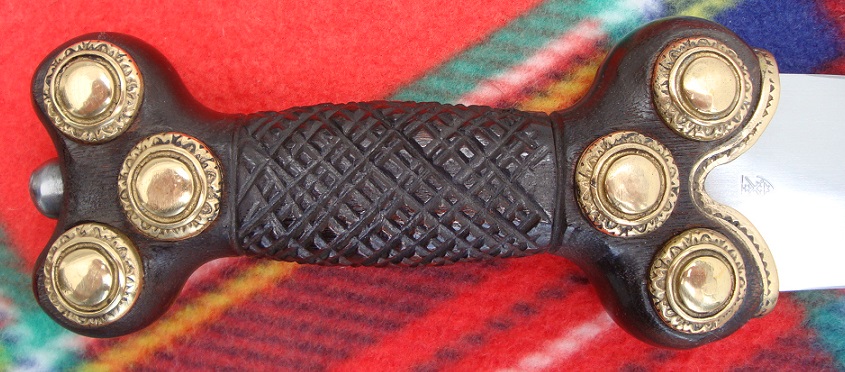 Hard wood with cross hatch design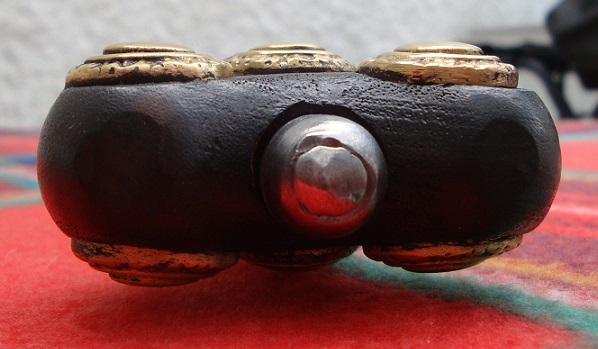 The peened pommel
Impressions: First off, let me say that I am not very knowledgeable with swords from this period in time and welcome comments and any additions to the thread. I ordered this sword from KOA with the sharpening option. They did a nice job as usual on the sharpening. The sword is a pleasure to wield.



The stats on the grip make you think it is way too small but the hand naturally fills the space between the pommel and guard with no discomfort at all.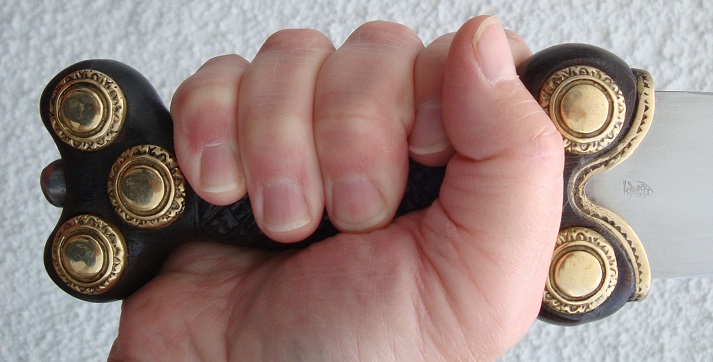 The sword has a further out point of balance but the overall weight keeps it very reasonable and easy to manage. I really like the sword and recommend it for people looking for something from around this time period.

Only negative is the coating Del Tin places on their blades which can be time consuming to completely remove. Sometimes their grips change due to the wood and climate changes. On this sword, the blade could slightly be moved left to right in the grip. Some oil placed inside the grip fixed the wood and it is very tight now.

WHERE TO BUY
The only place in North America to buy this sword is HERE at Kult of Athena for a quite reasonable $385.95

---
I hope this information on this Celtic reproduction sword has been helpful. To return to Modern Replicas of Ancient Swords from a Good Reproduction Celtic Sword, click here


Buying Swords Online Can Be

DANGEROUS!



Find the Best Swords in the:
Popular & Recommended ARTICLES

---
---