rust on the sword
QUESTION: Is there any practical impact on the sword if it got rust on the blade or tang? thanks.


ANSWER:
On the tang, not really. Generally speaking, you don't oil or maintain the tang as you do the blade - and what happens is that it forms a layer of patina that actually protects against further corrosion (indeed, with Japanese swords, cleaning the rust of the tang is a real no-no - especially with antiques, as it will dramatically damage their value!).
The blade is a different story, rust will cause it to lose its edge and eventually - if left unchecked, can possibly cause pitting or other weaknesses.
For most practical purposes, it is a cosmetic issue - but if left unchecked on the blade, it can become a practical one...
Hope this helps.
- Paul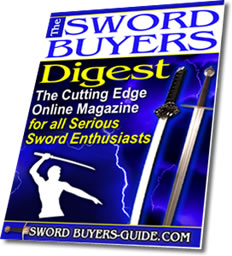 Sword Buyers Digest Newsletter!

Sword Buyers Digest Newsletter

Sign Up to Our FREE Monthly E-zine for all the latest sword news, info and much, much more! Click here for more info.