Salamander Armory
QUESTION: I found this place in the web. They provide a full description of their process and they are focused mainly on medieval swords. They hand made their production. Do you have any comment about them? I guess they are not between your five top places because they exceed our target value of US$ 300?


Thanks and regards
Excalibur
ANSWER:
That is exactly why - they are naturally over the self imposed $300 limit - and that really is the only reason they are not mentioned.
Jim Hrisoulas and his company have been around since - well, pretty much forever and have a totally rock solid reputation. If you get one of these, you will NOT be disappointed... :-)
Best,
- Paul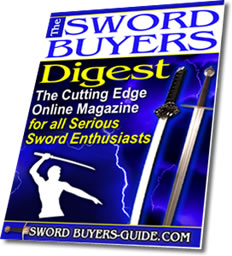 Sword Buyers Digest Newsletter!

Sword Buyers Digest Newsletter

Sign Up to Our FREE Monthly E-zine for all the latest sword news, info and much, much more! Click here for more info.