SBG Custom Katana Good or Not?
Is the SBG custom Katana any good? I know its made out of T10 tool steel, which Ive heard good things about. And if I get the Kobuse Laminated option, is it any good? I've heard that to get a good laminated blade you need to spend in the area of 800 to 1000, however, with the lamination it only costs around 520. How is the craftsmanship on the SBG custom? Would it be worth getting the folded option as well? And does anybody know if it is deferentially hardened with clay? and if so is it done correctly? I am also thinking about the K05 done by iron tiger forge as well. Does anybody know anything about this product? comparing the two, which would be better?


The K05 is around 476 dollars and is laminated in the honsanmai style with 1045, 1060, and 1095, and is deferentially hardened with clay
http://kultofathena.com/product.asp?item=K05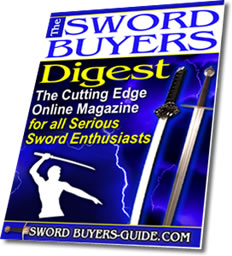 Sword Buyers Digest Newsletter!

Sword Buyers Digest Newsletter

Sign Up to Our FREE Monthly E-zine for all the latest sword news, info and much, much more! Click here for more info.