An Affordable and Historically Accurate Scimitar Sword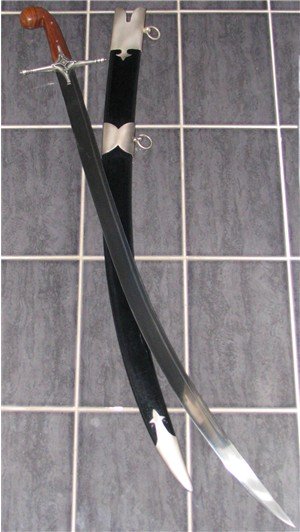 When it comes to choosing an Arabian Scimitar sword in our sub US$300 price range, at first it would seem that this category is sorely under-represented.

It would seem that the demand for a replica scimitar is not enough to justify most sword companies from producing one (other than the usual junky stainless steel ornaments that is)...

Luckily there is one fully functional replica scimitar being produced by Windlass Steelcrafts that should fulfil the requirements of the most discerning collector.

Not only is it beautiful in appearance, but this historically accurate Persian scimitar sword is also lightweight, strong and very, very fast.

But don't just take my word for it..

Check out Jean-Pierre's review of this scimitar sword for the full story...

---
Windlass' Scimitar Sword Review

Review by Jean-Pierre Francoeur, Toronto, CANADA

---
Steel    
Weight    
Price Range


1065 Carbon Steel
1.8lbs
US$200 to $249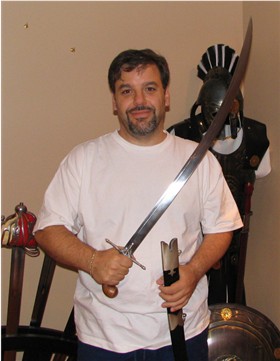 This sword is the replica of a Persian Shamshir from the late 17th, early 18th century.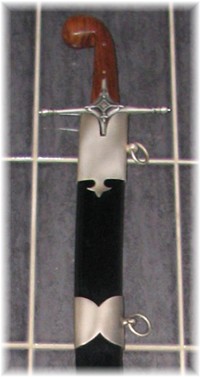 What makes this piece original is that it is one of the only such sword on the market. I know that Cold Steel recently added such a sword to its line up but I have not seen it yet and, it is fairly expensive (over $300).

First of all, one must note the beauty of this exquisite sword. The finish is impeccable, the balance is extraordinary and it handles extremely well.

This is not a heavy cutting sword, it lacks the weight of a European blade however it is capable of lightning fast cuts and draw cuts. The blade is high carbon steel, and is very sturdy yet, with enough flex to absorb shocks and return to its true.

If you like eastern swords, this is a MUST for your collection.

It is an extremely well put together sword, the wooden handle is riveted to the tang, the guard is nicely decorated, the blade is well polished and the scabbard is exquisite (black leather with nickel plated tip and throat).

But, the best selling feature is the price, at $209 it is a steal.

I am a big fan of Windlass swords and MRL, as a history teacher, they offer some of the most historically accurate and affordably priced replicas on the market.

This one is one of their best. GET IT!
PROS
Historically accurate design
Beautifully tempered blade
Excellent balance and handling
CONS
Standard blade is unsharpened, however a sharpening service is available at most sellers

WHERE TO BUY
While the review is quite old, the $209 price JP mentioned is still valid - or at least close to it, for the best price on this scimitar sword by a reputable dealer is to be found HERE at Kult of Athena where it sells for $211.50

Definitely a nice deal for this blade - and great to see that it has held its low price now for nearly two decades..!

---
I hope this information on this Scimitar Sword has been helpful. To return to Scimitars and Falchions from An Affordable and Historically Accurate Arabian Scimitar Sword, click here
---

Buying Swords Online Can Be

DANGEROUS!



Find the Best Swords in the:

Click here for the most reliable, honest and respected sword sellers
Popular & Recommended ARTICLES

---
---