Renaissance Side Sword Review
The Renaissance Side Sword by Hanwei wass both affordable, quite historically accurate and surprisingly for Hanwei - who are often a bit hit or miss in the sharpening department for their line of European swords - quite a nice little cutter to boot.

In this review, we take a closer look at this particular sword to see how it looks, handles and performs - and discover that even for people who are not generally fans of Renaissance weaponry, this sword wins hearts and minds wherever it goes...
EDITORS NOTE: While Hanwei no longer produce the Side Sword, it appears that a slightly modified version re-surfaced soon after that was made by Hanwei offshoot, Kingston Arms.

The basic design is almost identical - with a slightly longer and heavier blade and plain rather than wire wrapped handle.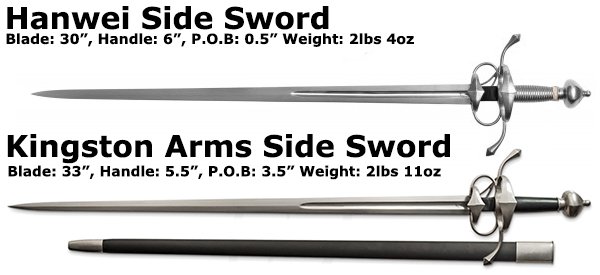 Otherwise, design, materials and even price are almost identical - so with this in mind, read on to find out about the original design that inspired the improved version by Kingston Arms.

---
Hanwei Renaissance Side Sword
Review by 'Odingaard', USA

---
Steel    
Weight    
Point of Balance    
Price Range


Unspecified Carbon Steel
2lbs 4oz
0.5" from guard
US$265-295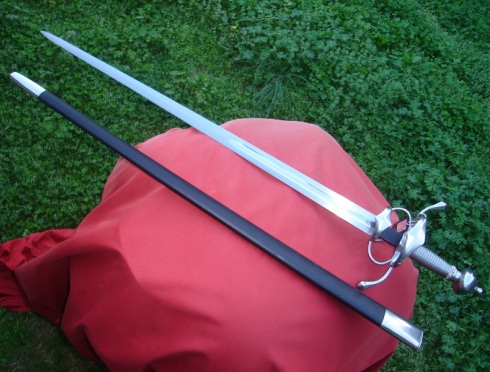 First of all, this is not my personal weapon. As a few of you know, I am not a big rapier / cut-and-thrust fan. For me personally, the rapier entered a little late in the game for my personal liking, outside the early realm of knights and chivalry and into the late era of puffy shirts and pirates.

After a few months of deliberation, my best friend selected the Paul Chen / Hanwei side sword for his girlfriend's high school graduation present. Since I am a part-time distributor for Paul Chen, I was able to get it to him for about half the retail cost. I asked him if he would mind me reviewing it for SBG before he picked it for.

Historical Overview
My understanding is that this side sword was a civilian development in the early 1600s as the sword left predominant military usage and became a civilian status symbol and means of personal protection. Later, this type of sword would have evolved into or alongside the different rapier styles. I have seen the side sword referred to as the 'Gentleman's Sword', and it is not difficult to imagine a sword like this used in duels or beating off brigands across 16th and 17th century Europe.

Initial Impressions

The sword arrived from my distributor well packaged and without damage. It was contained inside of a padded re-mailer box and re-wrapped in plastic and bubble wrap. I paid wholesale cost, but I believe this sword retails for around $249.

Taking the sword from its container, my first impression was of just how light it was...

Statistics

Blade Length: 30.0"

Handle Length: 6.0"

Overall Length: 38.0"

Guard Width: 8.0"

POB (Point of Balance): 0.50"

COP (Center of Percussion): about 20.0"

Weight: 2 lbs 4oz (weight on CAS site is with scabbard - this is the sword only!)
The Blade
The satin-finished blade is 30" long with a steep taper ending in a formidable tip. There is a 1/3 length fuller present. The finish inside of the fuller is polished to a mirror gloss. The first half of the blade is unsharpened and the edge tapers towards itself. Slightly past the fuller's end, the blade becomes razor sharp. There is no obvious bevel present which I found surprising.

The blade is well-tempered with a lot of spring in it. This is true to form for this type of sword and does not interfere with functionality. The blade also has a nice ringing quality which I found very attractive.

There are no hammer flaws on the blade or inconsistencies. It's almost too perfect!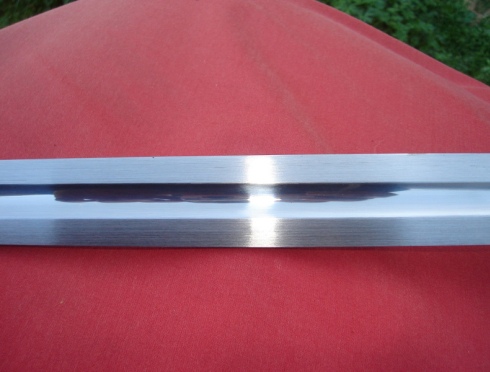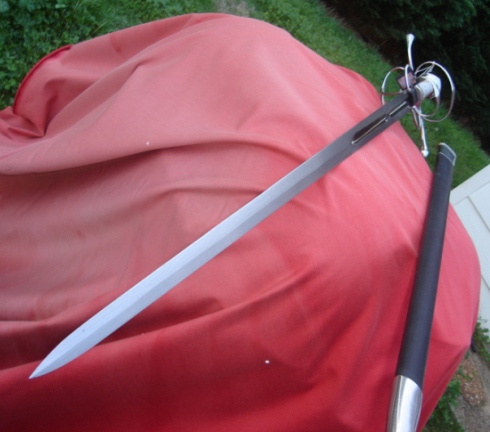 The Grip
The grip is wood core with a silver-braided wire wrapped handle. Each end of the handle is adorned with intricate silver wire Turkish Knots. The detail on the handle was amazing, giving it a custom sword look.

The wraps are even and without flaw. There are two tiny steel rivets holding the Turkish Knots in place, but these are barely noticeable and if seen, they seem to add to the visual detail of the weapon.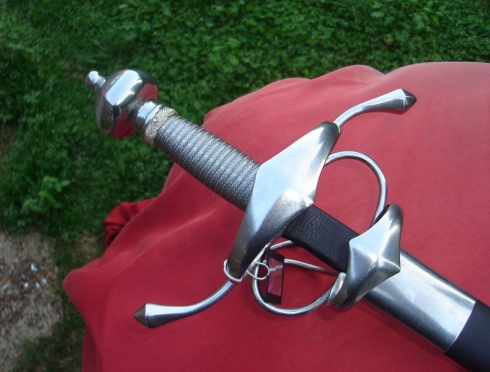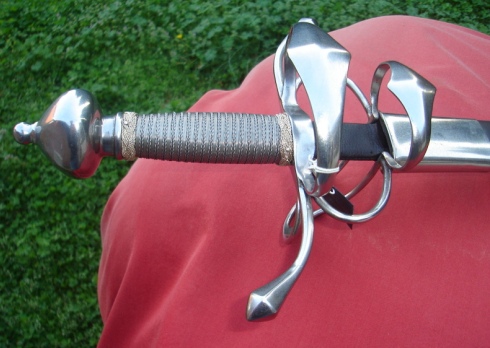 The Guard
The guard is constructed of a satin-finished steel and is very detailed in its build. There are no welds visible, and all of the lines are smooth and flowing.

The swept-hilt style of the guard allows for left or right handed grips, though designed with the right-handed swordsman in mind. The guard wraps around the leather covered ricasso and has rings on either side for pistol gripping the sword.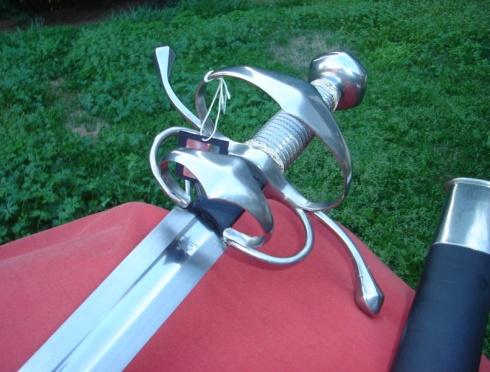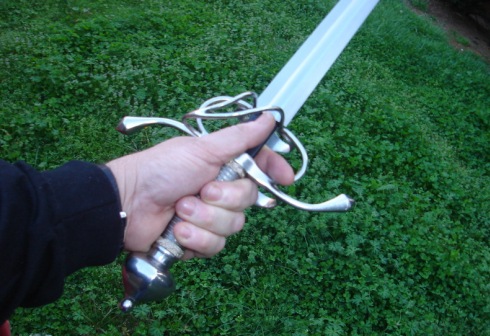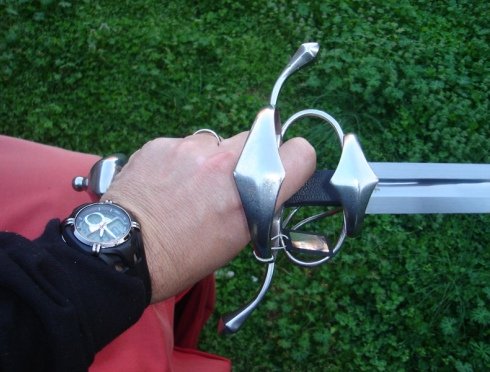 The Pommel

The onion-type pommel is lightly fluted on each side giving a very nice aesthetic and excellent counterbalance. I did not attempt to disassemble the sword, so I am not sure if it is peened or screw-on. There is a nicely finished round peen block present which denotes to a riveted tang, but as I said, this is purely conjecture on my part.

The Scabbard
The scabbard is constructed of thick grade leather and fixed with a steel chape and locket. The scabbard fits the sword well, gripping it slightly. There is no play of the blade in the scabbard whatsoever.

Handling Characteristics
The Side Sword handles like a dream. It is light with an extremely close point of balance and VERY, VERY fast - as a rapier-type weapon should be. Wielding the Side Sword is like wielding an epee, its completely effortless to put this sword onto whatever target you desire.

I have a ping-pong ball hanging from the ceiling of my garage I test point thrusting with. I thrust the weapon from the hip, so it is fairly accurate in portraying how your weapon reacts in your hand. Out of 10 trys, I hit the ping-pong ball 10 times. You cannot do any better than that.

Test Cutting
It's not my sword, so I did very limited test cutting. In fact, I did one test cut. I tried a snap cut from the wrist at a box I had sitting on my work bench. Here is the result:

One snap cut sheared this unsupported Priority Mail box near completely in half. It is held together with a 1" piece of cardboard. This sword definitely performs to standard and beyond. This simple cut has changed my opinion of the cut and thrust type sword.

Conclusions
This Side Sword has impressed me pleasantly. Though I am not a rapier guy, I am seriously consider adding one of these to my collection just because of the beauty and functionality of it. Even at the retail price, I see this as an exceptional value on a beautiful weapon.

At it's price point, I would have a hard time arguing anything else coming remotely close to this nice little sword. It's not my forte, but it has tempted my interest. It is made to a high standard and should suit well those seeking such a weapon. It has been some time since I have seen such quality in a off-the-shelf weapon, but the Paul Chen Side Sword leaves me smiling.

PROS
Detailed guard and grip.


Extremely fast and nimble weapon.


Blade is razor sharp out of the box and ready to perform.


Scabbard is an excellent fit.

CONS
If there are any cons, I could not find them during my short review period.



WHERE TO BUY
While the original design by Hanwei may have been long discontinued, the newest incarnation by Kingston Arms lives on and is available right HERE in the SBG Sword Store for just $269.99 - which is only just a fraction higher than the Hanwei original from all those years back.
---
I hope this review of the Hanwei side sword has been helpful. To return to Renaissance Swords from Renaissance Side Sword Review, click here


Buying Swords Online Can Be

DANGEROUS!



Find the Best Swords in the:
Popular & Recommended ARTICLES

---
---