Silicone Impregnated Gun and Reel Cloth
by Carl
(Long Island, NY)
I have used Silicone impregnated Gun and Reel cloths to coat my swords for years. Just wipe all metal surfaces after handling the blade and you're all set.
Join in and write your own page! It's easy to do. How? Simply click here to return to Sword Care Tips.

Looking for honest, trustworthy sword sellers? Look no further than:

FEATURED ARTICLES AND REVIEWS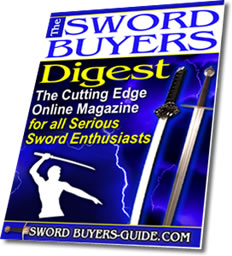 Sword Buyers Digest Newsletter!

Sword Buyers Digest Newsletter

Sign Up to Our FREE Monthly E-zine for all the latest sword news, info and much, much more! Click here for more info.