Cold Steel Small Sword Review
The Small sword was a civilian weapon that enjoyed great popularity and longevity during the Renaissance era - both for its practical application as a weapon of defence and as a must have 'fashion accessory' for the well to do gentleman of the era.

In this review by Charles Appel, we take a close up, hands on look at one of the most commonly available replicas, and discover a sword that is rarely photographed by online sellers to show its true beauty...
Cold Steel Small Sword
Review by Charles A. Appel, Marietta USA


Steel    
Weight    
Point of Balance    
Price Range


1055 Carbon Steel
2lbs
3.25"
US$200 to $249

Last year, while surfing the web, I stumbled across Sword Buyers Guide. I have been "sword poor" ever since. This is similar to being gun poor - except you can order by mail and don't have to fill out any forms (yet). One of my first steps on my road to poverty was the purchase of the Cold Steel Small sword. This small sword intrigued me because it is used in a manner similar to an epee. The epee is one of the few weapons I have a passing familiarity with.

The sword arrived from Trueswords, packed in a good sized box. Inside was Cold Steel's packing box containing the smallsword. It was encased in bubble-wrap. You will note that the sword came with a sword bag of the type one expects with Japanese swords. The blade was coated with thick white grease. My first impression was that this was a fine looking weapon, but I wasn't too sure about the grip or the handling qualities. (More on this later)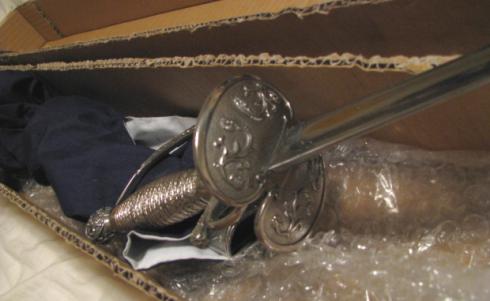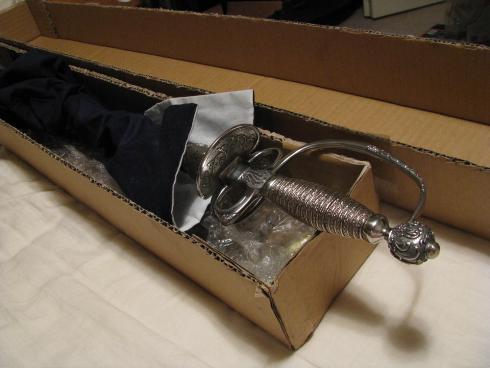 Statistics:

Handle Length:     3.75 Inches     9.525 cm

Hilt Length:     7.25 Inches     118.415 cm

Blade Length:     31.25 Inches     79.375 cm

Blade Width(*):     1.19 Inches     3.023 cm

Blade Thickness(*):     0.78 Inches     1.981 cm

Overall Length:     38.50 Inches     97.790 cm

Scabbard Length:     34.13 Inches     86.690 cm

Guard Height:     2.77 Inches     7.036 cm

Guard Width:     3.09 Inches     7.849 cm

POB:     3.25 Inches     8.255 cm

Sword Weight:     22.45 Ounces     0.636 kg

Scabbard Weight:     9.60 Ounces     0.272 kg

Total Weight:     32.05 Ounces     0.909 kg



(*) Measured at the guard.

DESIGN, FIT and FINISH

The Blade
The 1055 carbon steel blade was designed solely for thrusting. Only the very tip is sharpened. It would be possible to use the tip to make a slashing attack, but the technique requires a great deal of practice. I tried this against some cardboard boxes with mixed success.

Above, is a picture of the blade tips of the Cold Steel Smallsword (top) and the Hanwei Scottish Court Sword. As you can see both blades are moderately shiny. With the grease removed the blade of the Cold Steel product almost shines like a mirror.

In the photo above, you can see the tip of the blade, showing the small sharpened area. The scratches and scuffs are from several cutting sessions. Many a box, bottle, and blackberry vine have fallen to this sword.

The Grip
The handle is a steel casting. The grip portion consists of a wire wrapped wooden core. I think it is quite handsome. It is not up to the level of the Hanwei Taza Rapier I recently reviewed, but it is nice looking nonetheless. In shape, it is a long oval, slightly flattened on the sides. I contacted Cold Steel to see if it was possible to disassemble the weapon. The answer is yes - but doing so voids the warranty.

When I first examined the sword I was not overly pleased with the way the grip felt. It seemed clumsy and uncomfortable. But after handling it for a few weeks I found it to be more than adequate. Perhaps my hand has adapted to the shape.

The Pommel
The round pommel is fairly detailed and attractive. It features a floral motif with raised foliage against a roughened background. It is a steel casting, as are the guard and handle. Despite this it captures something of the look of old chiselled steel pommels.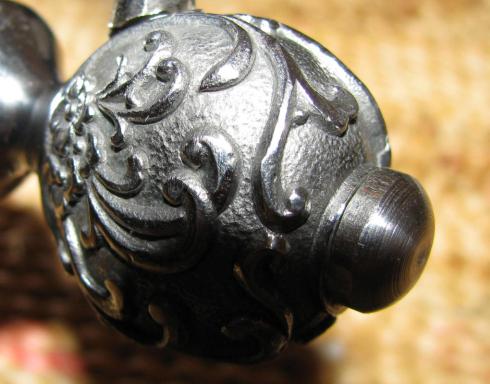 The Guard
The cast steel guard consists of mirrored shells. These offer adequate protection to the hand, but I would not mind if they were a tad larger. The decorative floral motif mimics that of the pommel.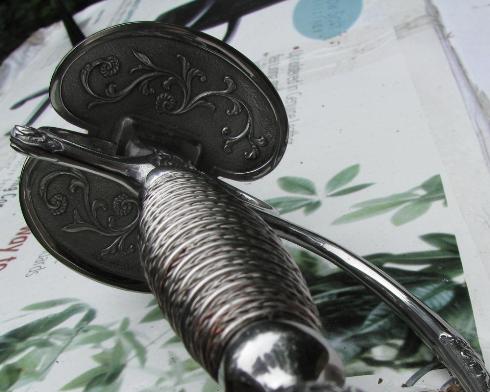 Above is the guard as seen from the rear. Note the vestigial quillion and knuckle guard.

And here it is from the front. Note the heavy coat of grease on the blade. This picture was taken shortly after the sword was unwrapped.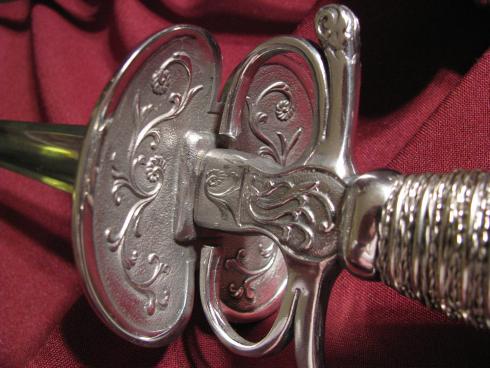 A close up of the guard and ricasso.

The Scabbard
The scabbard is made of wood, covered with black leather. A narrow seam runs down the back. Unlike the scabbards one normally sees in this price range, this is actually a nice piece of work.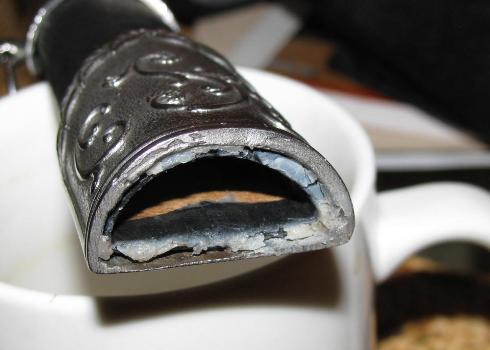 Above is a close up of the chape, still laden with packing grease.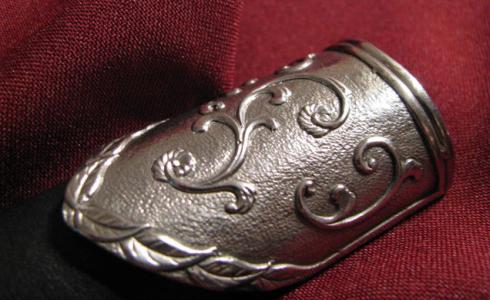 This is another close up of the chape. The floral motif matches that of the hilt.

The Cold Steel scabbard tip (bottom) compared to the scabbard tip of the Hanwei Scottish Court Sword.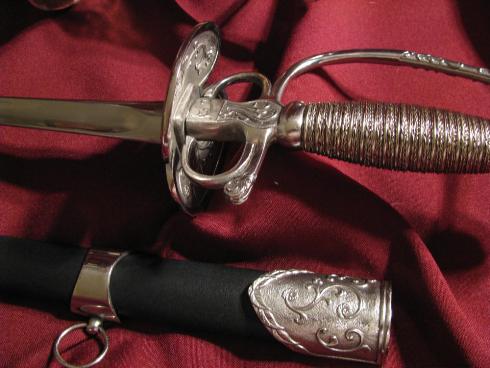 Sword and scabbard side by side. Note the ring for hanging the sword from a belt or baldric.

SMALL SWORD TESTING
Thrusting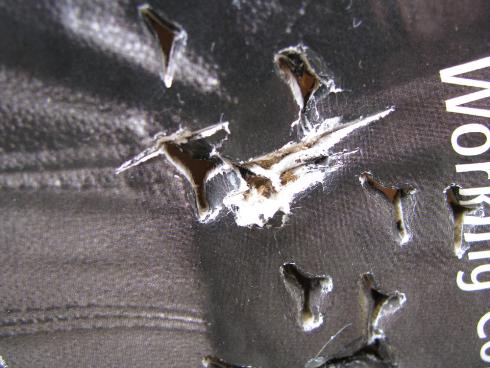 SMALLSWORD TESTING VIDEOS
Cutting
I attempted tip cuts with the sword against cardboard and a plastic milk bottle. You can see an example of the latter on the first video. Below is a picture of damage done to a cardboard box using the tip.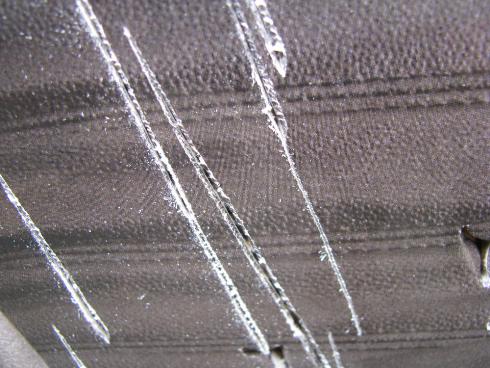 Handling
For me, the sword is just slightly tip heavy, but despite this, it handles quite nicely. The sword is fast and fairly easy to control. I like it.

Historical Accuracy
It is hard to judge the historical accuracy of this small sword. It is not a copy of any specific weapon but it captures the style quite well. Its main flaw is that it heavy. If it were about six ounces lighter I'd give it top marks.

CONCLUSION
If you are interested in a good durable small sword, there is not much point in looking further.

PROS
Extremely attractive blade and fittings (including scabbard)


Solid and very durable construction


Highly polished and reflective blade

CONS
A little on the heavy side (6 oz too heavy)


Hand guard feels a little tight at first


WHERE TO BUY
Charles bought the Cold Steel Small sword
here at Trueswords.com
for $224.99 - which would also be my own personal recommendation as to where to source this sword from.
With the best prices on Cold Steel swords across the board, cheap and ultra fast shipping by Fedex and truly awesome customer service, it would be silly to buy them anywhere else (especially when you consider that the price of this very same sword direct from Cold Steel is $424.99 - a full $200 more than at Trueswords for the exact same sword!).

---
I hope this review of the Cold Steel Small sword has been helpful. To return to Renaissance Swords from Cold Steel Small Sword Review, click here


Looking for honest, trustworthy sword sellers? Look no further than:

FEATURED ARTICLES AND REVIEWS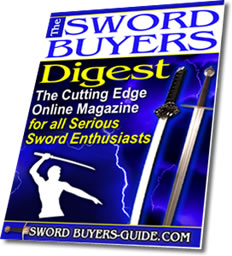 Sword Buyers Digest Newsletter!

Sword Buyers Digest Newsletter

Sign Up to Our FREE Monthly E-zine for all the latest sword news, info and much, much more! Click here for more info.