Hanwei Solingen Rapier Review
DISCONTINUED
This sword has been discontinued and is no longer in production or available, but is preserved on the site for informational purposes.

The Hanwei Solingen Rapier is, as you may have guessed, a replica of a rapier sword made in the famous medieval and Renaissance sword making capital in Germany.

In this review we will be both dissecting and testing this sword to see exactly how much bang for your buck it truly represents.
---
Hanwei Solingen Rapier
Review by Sean O Stevens, Grovetown, USA


---
Steel    
Weight    
Price Range


Unspecified Carbon Steel
2lbs 5oz
US$297-330

I love rapiers... LOVE them. My first experience with any sort of sword was fencing with my father. Those are some of the very few good memories I have of him... so maybe thats part of why I love rapiers so much. Or Maybe it was 'The Princess Bride' that did it to me. Either way, I have always had a soft spot for these elegant weapons.
I was SO excited to get my hands on this one, I forgot to photo the box and packaging. Rest assured tho, future reviews I will (attempt) to remain calm and do so. Everything was boxed and wrapped very well, the sword arrived with no damage or issue, well protected and greased up.

Specifications:

Blade length: 36 5/8

Overall length: 45 1/4

Weight: 2lb 5oz

Width at Guard: .75

Width at Tip: .40

Thickness at Guard: .25

Thickness at Tip: .10
The Blade
Everything disassembles on this (and all, if I'm not mistaken, all) Hanwei rapier. The blade is a very narrow, flexible 4 pointed star shape. It's very abnormal if your not used to rapiers... it seems almost hollow ground. It's formed much like a stiletto. It's not sharp on the edge, it's all about thrusting.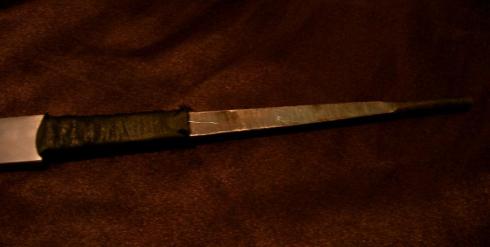 As you can see, the tang is threaded. Hanwei sells blunt blades, and replacement blades, which is actually really cool. That means you can practice and fence with the same setup, and keep a live blade in it when not fencing. Damage a blade... replace it. Spare blades are decently affordable also... they tend to run around 40 - 50 bucks.

I've handled rapiers before that had a more normal, wider and flatter blade that was better for keeping an edge along it's whole length. This one is much more of a dedicated thruster. This is not to say you could NOT give it an edge along it's length, but it would be tricky with so little space to work with. I may try it later, if my sharpening skills improve, because I like to deliver thrust-cuts with a rapier.

There was a little burr at the tip of the blade... I have read from others this is common with the Hanwei rapiers. I took it out no problem with a file, nice and smooth now. And POINTY!

The Grip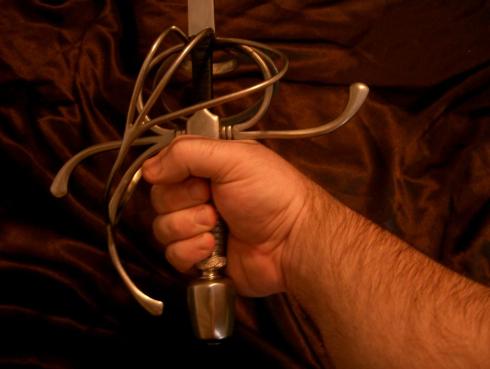 Pretty small... a tight fit for my giant paws. It feels good in hand, but for me something just a TAD bigger would be better. If you have large mitts, keep this in mind.

The core is made of plastic, wrapped in wire. I'm not thrilled about the plastic... I'm sure it's durable, but I just don't like plastic in my swords.

The Pommel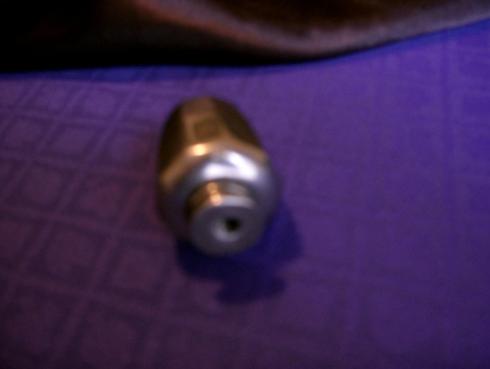 Sorry, blurry pic. The pommel isn't overly exciting anyway... it's like a cubed-oval. It has some heft to it and does it's job, keeping your hand in place and transferring some weight behind your hand for better, quicker handling.

The Guard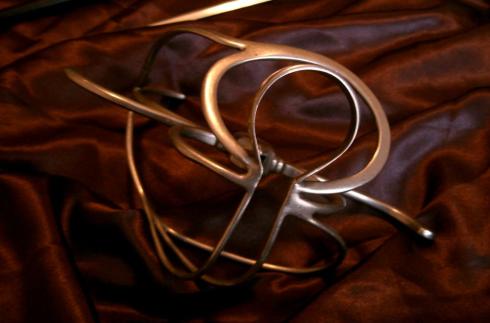 Simple yet elegant... not overly ornate but still a bit more involved then some more basic guards I have seen. A Good balance, and I like it... one of the reasons I chose this one. It's made from Stainless steel, so you don't have as much upkeep with the guard as with the blade itself.

The Scabbard
VERY basic. Some kinda synthetic (fiberglass like many of Hanwei's products?) with a rubber material at the mouth. Covered in black leather. Basic and functional, nothing to write home about. The sword sits loosely in the scabbard and would fall out if tilted downward. Also, being a synthetic, it makes that 'Schhhhing!' sound when drawn that everyone is talking about lately.

Thrusting
Ah! What a rapier is BUILT for. See for yourself.

It tracks well in hand... but not the BEST. I tried on smaller bottles (20oz) a couple times off camera and missed 2 out of three times from a lunge-thrust. Could be I'm rusty... actually, I KNOW I'm rusty.

The Solingen handles well, is light and flexible as a rapier should be, and has a well tempered flexible blade.

Conclusion
So, in the end, I think this sword is one of the best options in it's price range for this sort of sword. The plastic bothers me... but that's a little thing and you only noticed it when you disassemble the sword. The option to mount blunt blades and get replacement blades is VERY handy and a great feature. The handling and look of the Solingen are great. There is an antiqued option if you prefer for a little bit more money. All in all, a great entry level rapier.

Pros
Light well balanced.


Clean and attractive overall appearance.


Replaceable blades and blunt blade options make it VERY versatile.
Cons
Not much edge for draw/push cuts.


Plastic core grip bugs me.


Small grip is tricky for large hands.



WHERE TO BUY

Like almost all the Renaissance swords we are looking at, this blade has gone the way of the do-do..
However, bearing the good and bad points of this blade in mind, for anyone looking for something similar we strongly suggest you check out the range of Renaissance swords available HERE at Kult of Athena

---
I hope this review of the Hanwei Solingen review was helpful. To return to Renaissance Swords from Hanwei Solingen Rapier Review, click here


Buying Swords Online Can Be

DANGEROUS!



Find the Best Swords in the:
Popular & Recommended ARTICLES

---
---