Stainless Steel Blades
by Benjamin
(Randolph)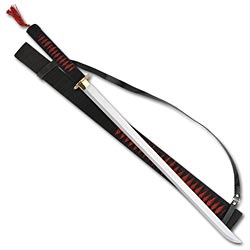 Here it is. (Hasn't broken and handles pretty well)
QUESTION: I bought a cheap $15 sword out of a magazine. I new I couldn't expect too much from it as it being a stainless steel blade. But magazine said it was heat tempered, so i figured for $15 it was worth a shot. i got it left it as a wall hanger for about a month, then I got bored. I had to try it out so i gave it a couple practice swings and decided to cut a milk jug and it sliced through perfectly. The blade was decent, tang was horrible though. just a crappy rod tack welded to the sword. Now i have read at almost every site that carbon Steel is better than Stainless Steel by far but in this case is it an exeption? Here is the link:


http://budk.com/product.asp_Q_pn_E_46+BK230
ANSWER:
You got VERY lucky...
Why? Have a look below, it's the same sword!!
Need I say more... ;-)
Take care.
- Paul