Sword Breakage
by Istvan Csizmeg
(Hungary, Budapest)
QUESTION: I have a high carbon steel katana. I have broke it cutting carton paper block. Without telling the producer and blaming them (as they will replace it for me) I'd like to ask your opinion from this distance :-)


Was it a weakness of the blade or I was cutting too hard object or I am very strong :-)
best regards Istvan
ANSWER:
Hi Istvan,
Ow - that's not good. You broke it cutting cardboard? Hmm, well - cardboard is usually only damaging to the edge of the sword (blunts quicker than normal) and causes scratching. Unless you were cutting a ridiculous amount of boxes in one go - I would say it is a fatal flaw in the way the sword was forged....
Not good at all - I'd be wary of who made these swords, it is extremely dangerous if it happens again...
Stay safe over there... (I'm a bit worried actually, please email me privately so I can know which brand this is)...
Thanks,
- Paul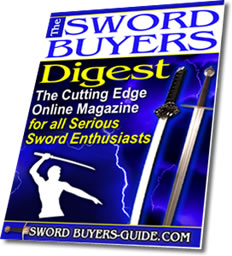 Sword Buyers Digest Newsletter!

Sword Buyers Digest Newsletter

Sign Up to Our FREE Monthly E-zine for all the latest sword news, info and much, much more! Click here for more info.