Swords for Sale in Australia
Swords for Sale in Australia

There are a couple of different sites offering Swords for sale in Australia, however due to the distance from the US market (and the beloved GST) prices tend to be a lot higher here than almost anywhere else... :-(
That said, we do have quite a handful of good local Aussie sword sellers that cover just about all the major brands, most notably Victorian based sword selling giant Globar Gear.com. Sadly most of the smaller sellers have disappeared in recent years as the global sword market has shrunk to a fraction of the size it was a few years ago.

Recommended Aussie Sword Sites
Swords are, for the most part, legal for a person over 18 to own in Australia except for in Victoria - where they are prohibited weapons and require a permit/exemption to own and must be stored securely. More information on this and also on how to get further state by state advice is kindly provided by Global Gear on their site here

Global Gear
Comments: Global Gear are the biggest of the big boys, with a massive retail location based in Knox, Victoria (of all places!). They stock most of the major sword brands, such as Cold Steel, Hanwei, etc but also have their own range made for them in China that are on the whole pretty decent bang for the buck (taking advantage of Australia's proximity to Asia, rather than having swords made in China, shipped to the USA, and then back to Australia again - so the prices are reasonable).
Esford.com
Comments: Traveling to the various Renaissance fairs, these guys are offer Deepeka Swords for sale in Australia, and are popular with re-encators for their swords and armor and carry a lot more of their products in stock and ready to go than most other Aussie sword sellers.
Lawrence Ordinance
Comments: One of Australia's leading sellers of militaria generally, Lawrence Ordinance also offer a wide range of swords for sale in Australia from several major suppliers including Hanwei, Deepeeka, Windlass Steelcrafts and many more.

War Sword
Comments: With flat rate $10 shipping to all of Australia and a range of imported Lonquan Japanese styled swords and Hanwei medieval swords, War Sword have a decent range of functional and decorative swords to choose from.
Sword World Australasia
Comments: Major Perth based supplier of Windlass Steelcrafts swords in Australia. Also stocks a wide range of sword related accessories and odd bits and pieces that will likely appeal to most collectors.
Spartan Sports Shop
Comments: Sydney based combat sport supplier also has a decent range of swords for sale in Australia from Cold Steel, Windlass Steelcrafts, Hanwei Forge and several others. Prices are on the high side by international standards, but ameliorated to some degree by free shipping (and free return shipping) and a generous return policy.
Extac Australia
Comments: Slingshots, gel blasters, knives and of course swords make Extac Australia a great resource for the weapon enthusiast in Australia. Their range of swords comes from manufacturers such as Hanwei, Cold Steel, etc but they also stock harder to find brands such as Condor and their own generic Longquan sword imports. Stock is clearly marked as available or out of stock.
Swords and Antique Weapons
Comments: Based in Brisbane but selling antique swords and weapons all over the world, if you are in the market for antique swords for sale in Australia from Asia, the middle East, Africa and well - pretty much everywhere - this is the site you should check out.

Tatami Mats in Australia!! (yay!)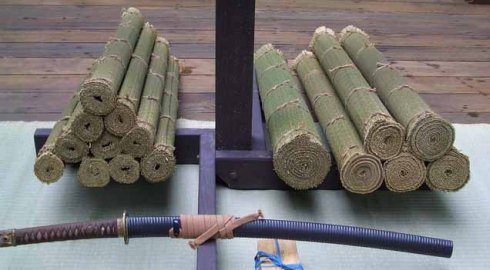 After years and years of struggling to get decent quality Tatami Mats in Australia, you can finally get REAL MUGEN DACHI (top quality) Tatami Omote right here in Australia from Ozi Tatami.com
Great prices, great service and finally, no more $100 shipping fees a box..!Happy cutting guys and girls!
Finally, you may also want to consider using the services of a mail forwarder as explained here as all swords for sale in Australia are much more expensive than they should be due to GST, double shipping costs (i.e. shipping from the manufacturer, usually in China, to the USA and then back to Australia again) and rather arbitrary import duties and AQIS (Australian Quarantine) costs.
Like that one time I tried to set myself up to offer swords for Sale in Australia, but gave up after AQIS charged me $180 to chemically treat three $4 wooden stands.. Didn't even have any say in it, they just went ahead with it and sent me the bill - so don't think local Australian sellers are gouging you, they are just passing on the gouging by the Australian government (don't get me started)...

---
I hope this information on Swords for sale in Australia has been helpful. To return to the Sword Buyers Directory from Swords for Sale in Australia, click here

Buying Swords Online Can Be

DANGEROUS!



Find the Best Swords in the:
Popular & Recommended ARTICLES

---
---