Swords of Might - Any good?
by John
(PA)
QUESTION: Is swords of might a good site? I was looking at their stuff and they seemed to have good katanas.


ANSWER:
Short answer - not too bad..
I've had quite a few dealings with Jason at Swords of Might and he is a nice guy. Sometimes he slips up on customer service or gets upset at a customer if he feels they are being unreasonable, but if you treat him right he will do the same..
His prices are certainly competitive. Anyway, he has been in the business for years and overall his store is a safe place to buy swords.
Best,
- Paul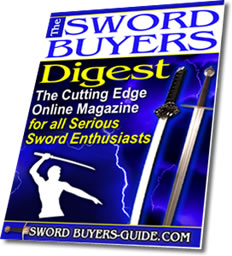 Sword Buyers Digest Newsletter!

Sword Buyers Digest Newsletter

Sign Up to Our FREE Monthly E-zine for all the latest sword news, info and much, much more! Click here for more info.