Swords of the East
by Robert
(Cape Coral, Florida, USA)
I own over fifty swords and I've done about ten thousand dollars in the past two years with Swords of the East. They have great prices and good service. To date I have had no problem with them. The one thing I can say is before I placed an order I contacted SOTE to see if the sword I'm ordering at the time is in stock and if not what would be the wait time, so far they have been honest with me.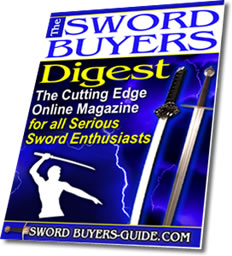 Sword Buyers Digest Newsletter!

Sword Buyers Digest Newsletter

Sign Up to Our FREE Monthly E-zine for all the latest sword news, info and much, much more! Click here for more info.