Terrible Customer Service!
My first (and definitely my LAST) experience with KOA was far from pleasant. I placed an order for two items, then a week later emailed customer service to check on the status, since at the time I placed my order both items were listed as In Stock. My email was a short two sentence question simply asking for a status update. Wow! The nasty response I received was unbelievable. The author ended his email with an apology, which the way it was worded was anything but. In amongst the rudeness the only information I was seeking was the explanation that one item was in stock and the other one wasn't. A quick email explaining why Neither item had been shipped would have been great and I could have avoided ANY dealings with them. KOA is in some SERIOUS need of customer service training! These folks have neither the skills nor the competencies required to maintain any sort of customer satisfaction in the event they must deal with people outside of the "click to order" domain. Disgusted with their first email, I promptly let them know I was unhappy, not about my order, but by their treatment and canceled my entire order. After reading many of the scathing responses from KOA to previous disgruntled customers on other Buyers Guide sites, it seems pretty clear that this type of behavior is fairly status quo and perfectly acceptable to this company; either that or their employees REALLY hate their jobs. I wished I would have read many of these reviews before I attempted to order from them. A word of advice; "Put your time, effort and $$$ into a company who actually values its customers just in case, on the off chance, you need to deal with their customer service department." When ordering merchandise online, it's really not that far out of the realm of possibility. Unfortunately, KOA marred my experience before their products ever left the warehouse.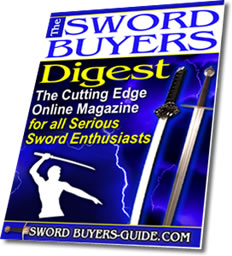 Sword Buyers Digest Newsletter!

Sword Buyers Digest Newsletter

Sign Up to Our FREE Monthly E-zine for all the latest sword news, info and much, much more! Click here for more info.