Thaisuki. Should or shouldnt i?
by Brett cost
(Ohio)
Someone talk me out if buying a thaitsuki katana. I have the money for one and saw one I really like at kult of Athena for just over 2k. I like citadel but its hanwei and I have hanweis so Im looking for something different. I also don't like the shortness of the citadel handles. 9" is like a one handed weapon for me. After handling a 14" handle the balance and ease of the snap return is wonderful. Also using that size makes everything else feel too small and feels like your choking up. And many of hanweis swords have the same hamon. Bugei is nice too again its hanwei. I've seen reviews of thaitsuki and destruction videos on them and they're a strong sword. Like darksword strong. And they're from Thailand and not china so that's also a plus. Not that china is bad but all my katanas were made there even my nice ones and am looking for a different region maker. I've looked for American katana makers but they're few and sold out constantly. And other American companies only deal in old nihontos. Im looking for a modern Japanese nihontos but they too are scarce if at all. Mostly its old swords and Im not looking to buy history. I can also get two darksword swords for the price of the thaitsuki but the thaitsuki is so nice. Has anyone heard of anything bad from thaitsuki? Like crooked mountings or loose or blades snapping? Anything bad at all? Price isn't an issue and I know I could get a Bugei falling pine sword which I like alot too for half the price of thaitsuki. But again its hanwei. Bugei and citadel are associated with hanwei if not from their forge directly if my findings are correct its all Paul Chen cas hanwei. Paul is a designer but hanwei is the beast company in swords. So there it is let me know people! Your thoughts!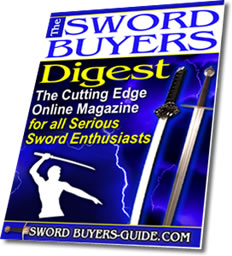 Sword Buyers Digest Newsletter!

Sword Buyers Digest Newsletter

Sign Up to Our FREE Monthly E-zine for all the latest sword news, info and much, much more! Click here for more info.