Thaitsuki Swords


Manufactured in: China with QC and Shipping in Thailand
Steels used: Primarily T10 tool steel & 1095 carbon steel

Price range: US$879 - $2999
Official Website: http://thaitsukisword.com/


Thaitsuki Swords was established by the current owner, Satit (Jack) Sivarat in 1999 under the name 'Thaitsuki Nihonto' in the outskirts of Bangkok, Thailand and specialize in making mid to high end level production swords.

After nearly 20 years of production in Thailand and with a sword making a part of his family tradition for hundreds of years, by 2008 it was clear that the political situation there was making production extremely difficult. So it came to pass that in 2010 Jack made the tough decision to re-locate production to a family owned forge in China - though he kept a small team of skilled workers to inspect and correct any defects to maintain the QC levels that this company prides itself on.
The blades are made from folded (1024 layer) high carbon steel (though the actual steel used in not mentioned) and in what may be considered a Thaitsuki 'signature' style is the heavy use of silver in the fittings (typically using 75% silver mixed with other alloys to make it stronger, a jewelers silver is too soft).
Swords are not kept in stock by Thaitsuki but rather are made to order, with the lead time from placing an order to it shipping direct for their HQ in Thailand is typically 45-60 days.
While there is n official warranty on their website now, Thaitsuki have a reputation for standing behind the products they make with their family promise "Our family has a great sword making reputation, and we will not compromise that reputation."
MAIN PRODUCT LINES
---
Sanmai Laminates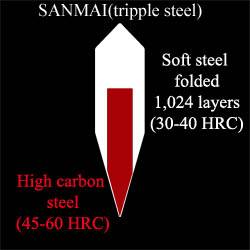 Thaitsuki Swords specialize in folded Sanmai laminated blades, differentially hardened with a natural hamon. The end result is a blade that is in all respects quite close to a Japanese made Nihonto but at a fraction of the cost.
Prices range from $2000 to $3000 depending primarily on the fittings. Blades are made from T10 tool steel and 1095 carbon steel. They also have a Honsanmai model with a soft steel spine.

---
Maru (not laminated)

For the most part, the quality and purity of modern steel means that while folding is not necessary, it does create the subtle interplay of folded lines in the hada (skin) of the sword. Thaitsuki Swords have several models that are not laminated, but due to differential hardening, still have same HRC.
As they are easier to make, prices on the Maru line start at $989 and go up to $1349 for the stunning KTN5, all of which are made from T10 tool steel.

---
How They Are Made

As mentioned, Thaitsuki swords were originally made from start to finish in Thailand, but due to sensitive political issues and instability in Thailand, production was outsourced to China in 2010.
The production process remained the same, however each sword is shipped back to Thailand for final QC before being shipped out to customers and retailers all over the world.

KNOWN ISSUES
Unfortunately it would appear that Thaitsuki was singled out and viciously attacked on the now defunct forum 'Sword Forum International' - ostensibly because they originally referred to their company as 'Thaitsuki Nihonto' - while to the Japanese Sword Community the word 'Nihonto' was reserved for Katana made in Japan (with the inference that if a sword is not made in Japan, you cannot use the word 'Nihonto').
Almost all of their problems stem from the initial reaction to their name - with few complaints actually leveled against the actual swords.
To get an overview of what Thaitsuki swords are like now, check out this hands on video by Matthew Jensen.

The only real 'complaint' out there with any validity is that some consider Thaitsuki swords to be slightly overpriced compared to other options available on the market. However that said, their blades and fittings are very unique and extremely attractive and the company is continually improving their products based on buyer feedback and are a friendly and responsive company.

WHERE TO BUY

Thaitsuki swords are available from several re-sellers and at their official homepage and website here: http://thaitsukisword.com/

Official SBG Reviews
Thaitsuki Model KTN5
Strikingly attractive, and a nice cutter, it's a tad overpriced but still worthwhile for it's hand made, very high quality fittings. $1,349.99


---
I hope this information on Thaitsuki Swords has been helpful. To return to the SBG Sword Manufacturers Dossier from Thaitsuki Swords, click here

Buying Swords Online Can Be

DANGEROUS!



Find the Best Swords in the:
Popular & Recommended ARTICLES

---
---