THE RIGHT SIZE KATANA
by CHARLIE
(NEW JERSEY,USA)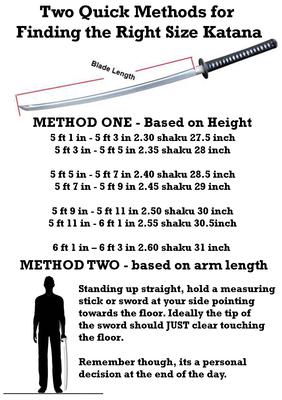 A helpful chart
QUESTION: I'M CONSIDERING PURCHASING A FUNCTIONAL KATANA. THE BLADES OF THE ONES I'VE BEEN ABLE TO HANDLE (27"-29") BIND WHEN DRAWN FROM THE SAYA AT A "WORN" POSITION. ARE MY ARMS TOO SHORT FOR A FULL SIZE BLADE? DO I NEED A SHORTER BLADE? IS THAT JUST THE WAY IT'S SUPPOSED TO BE? I DON'T WANT TO INVEST $$ ONLY TO BE DISAPPOINTED- PLEASE OFFER WHATEVER ADVISE YOU CAN. AND THANKS FOR SUCH AN INFORMATIVE SITE!


-CHARLIE
ANSWER:
Hi Charlie,
Here's an easy way to get a rough idea of how long a Katana you should have. Get an extendable tape measure and hold it in your right hand, with your thumb extended down. Then relax your arm at your side and extend the tape until it
nearly
touches the ground and check the reading where your thumb touches the tape.
This will give you a rough and ready idea of how long the blade will need to be.
Hope this helps.
- Paul