This Kaze is everything I had hoped for - Thanks Paul S.
by Stever
(Auburn, Washington USA)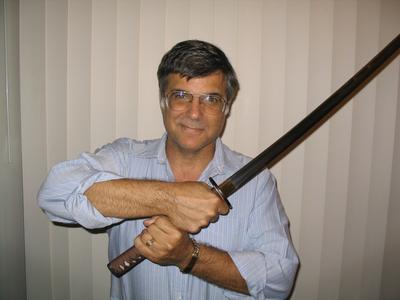 A wonderful katana in every way
Thanks Paul Southren, this Kaza Katana is everything I had imagined. Who needs a $1,000.00 sword???? I hate wall hangers in firearms and cutlery. This Katana is a modern version and I believe has superior steel than most of the ancients.

It has traditional same ray skin, the kissaki (point of the sword) is well defined, the mune (back of the blade) has a nice custom looking double angle to it, the hamon is there but subtle, the double mekugi is smart and safe, and the ito (handle blade) is wrapped tight and well done.

I just wish Paul Chen would make a naginata like this sword! Hint, hint! My hats off to Paul Southren, helping us sword users and buyers. Finally we have a real friend that will tell us the truth about these blades. The sword replica industry is going bonkers in production of swords of all kinds and qualities. Selecting a sword (unseen) is to risky for me. And it is great to have Paul on my side and not afraid of telling it like it is. Very soon I hope to have more of these 9260 katanas and that Oniyuri Bujinkan Katana just might be the next one.