Upcoming Review on Chinese Swords
by Jason
QUESTION: So, this has been a long time coming. I've been sitting on the sidelines poring over everyone's reviews and analyzing every word on your site for months now. Last night I ordered my first "real" sword: the Hanwei Chinese Broad Sword.


I intend to review and write about it in ridiculous detail, and post it here. =)
I am a long-time studier of Chinese martial arts (Jow Ga Shaolin system) and have long used "functional" (read: cheap) martial arts weapons. It will be interesting how a functional blade will work.
Hopefully, I won't cut either of my ears off.
Anyway, as soon as it gets here, I'll get going on that. Once again, thanks for a fantastic site. I really appreciate your down-to-Earth take on things.
Sincerely,
Jason Ferron (username jayferron)
ANSWER:
Hi Jay,
Excellent, I look forward to hearing your impressions of it, especially from someone who trains in real Kung fu (I remember reading about Jow Gar Kung Fu quite a few years ago in Black Belt Magazine, a very tough style indeed and one that after I read the article, I REALLY wanted to learn - but alas, there were no Kwoons near me that taught it...)
Anyway, can't wait to read it! :-)
Best,
- Paul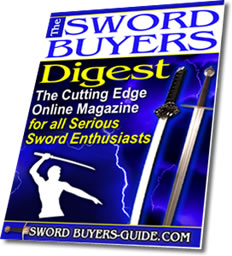 Sword Buyers Digest Newsletter!

Sword Buyers Digest Newsletter

Sign Up to Our FREE Monthly E-zine for all the latest sword news, info and much, much more! Click here for more info.