Viking Sword Review:
10th Century Viking Sword by
Kingdom of Arms

In this hands on Viking sword review, we will be examining Kingdom of Arms replica of a 10th century Viking sword made by the team of skilled artisans at Blade Culture International in the Philippines.
While this particular sword did not meet all expectations and is not necessarily representative of what to expect from Kingdom of Arms, the warts and all Viking sword review presented here should give you some idea of what to expect from KoA and it's very personable and customer service focused owner, Clyde Hollis.
So without any further ado, I will hand you over to the gentleman who wrote this Viking sword review, Canadian Sword collector and enthusiast Mr. Philippe Goulet.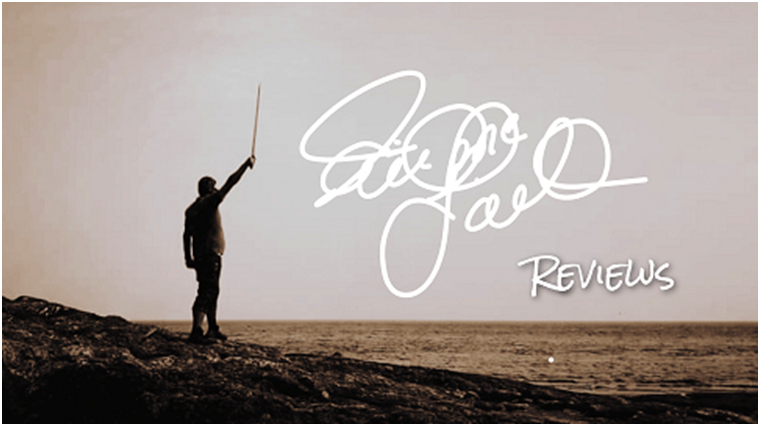 ---
Kingdom of Arms 10th Century Viking Sword Review

Viking Sword Review by Philippe Goulet, CANADA

---
INTRODUCTION
A 45-year-old Canadian, I have been collecting swords for about fifteen years. I own all sorts of weapons… ranging from movie replicas, historical replicas, fantasy weapons and a mix of all of these at the same time! I am by no means a weapons expert, nor a historian, nor a time traveler who thinks I know everything. I'm just a fan who likes to add shiny steel items to his armory.
I am not used to making very elaborate reviews, but I am launching here to present this magnificent sword which had piqued my curiosity. 
Full Disclosure

This is my first Kingdom of Arms sword. I was hesitant to buy one because I heard left and right that for the price point (700$ USD), the fit and the finish left something to be desired. I'm usually very critical of the artwork I display in my armory, although I know that historically swords were far from perfect.
Knowing my great interest in Viking swords, Clyde Hollis (owner of Kingdom of Arms) sent me this sword so that I could review it. We concluded that I would do an honest review. I was not asked anything specific. I therefore have no affiliation with them and I am in no way an expert in weapons, as mentioned in my introduction. So, let's start.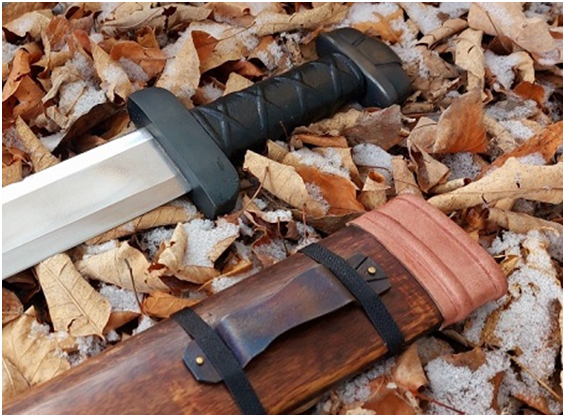 10th Century Viking Sword, hand forged by Kingdom of Arms – KOA-43105. 
Oakeshott describes the Type X as: "A broad, flat blade of medium length (average 31") with a fuller running the entire length and fading out an inch or so from the point. 
The handmade elite Kingdom of Arms 10th Century Viking Sword features a hand hammered 5160 carbon steel blade as the originals were made, full tang, heat treated and tempered as the originals, for a strong yet flexible blade that will hold a very sharp edge, with a leather wrapped handle with an embossed design and "blackened guard and 3 lobe pommel.  Which is one of the 4 styles of pommels typical of the 10th Century. Fully Functional (Battle Ready)! The sword comes with a wooden scabbard with leather accents and with steel loop bracket at the back of the scabbard with a burnt copper finish attached. 
*(We will see later that the stats are not exactly as advertised)
Specifications: 
Blade Length: 27.5" 

Overall Length: 34.25" 

Handle: 6.5" 

Grip Length: 4.25"  

Weight: 2.5 lbs  

P.O.B.: Below Hilt 
Features: 
5160 Tempered carbon steel blade. 
Guard and pommel are made from a quality low carbon steel and antiqued to lower the possibility of rust from handling. 
Wood scabbard with quality leather fittings. 
A quality sword demands a quality scabbard!  Just like a great car needs a great paint job. They go together. 
The 10th Century Viking Sword by Kingdom of Arms, Sharp Viking Sword is evocative, to say the least, but that's why you're drawn to it in the first place. 
Retail Price : 760$ USD 
On Sale on Kingdom of Arms Website : 712$ USD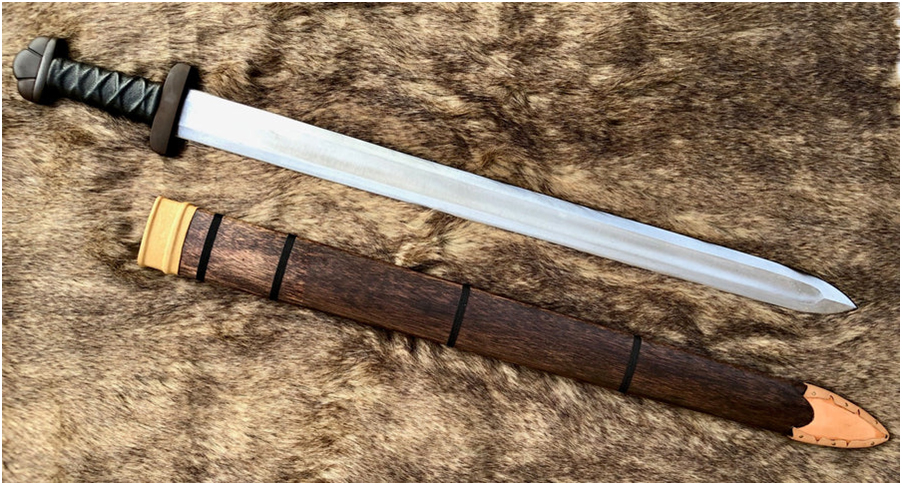 Manufacturer Overview

Kingdom of Arms Swords is the latest project by sword industry legend Clyde Hollis, the man who originally started Generation 2 (now known as Legacy Arms). 
To know more about this swords line, click here for more information from our manufacturers dossier.

Unboxing & Initial Impressions
The sword arrives wrapped in thin bubble wrap, and all wrapped in cardboard. This roll is loose in the rectangle box so they walk around. It's not the best packaging I've seen but it's not the worst either. So that's not an issue for me. The sword and the scabbard arrived after all without damage.
A thin layer of grease has been applied to the blade (also on the belt loop) to prevent rust. It was easy to remove it.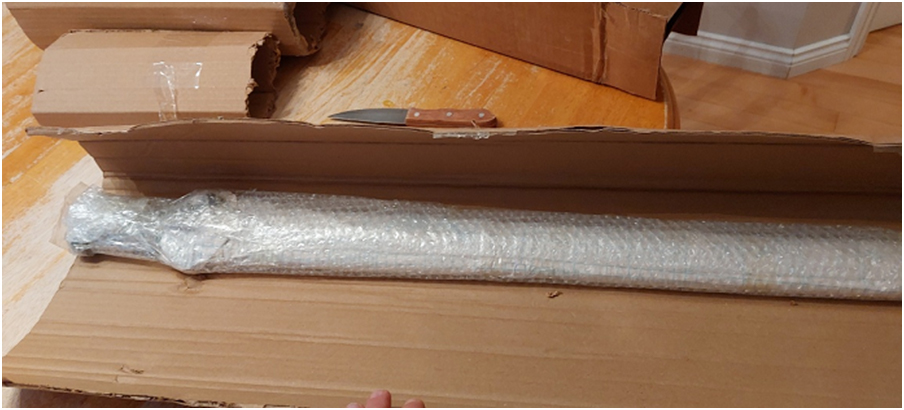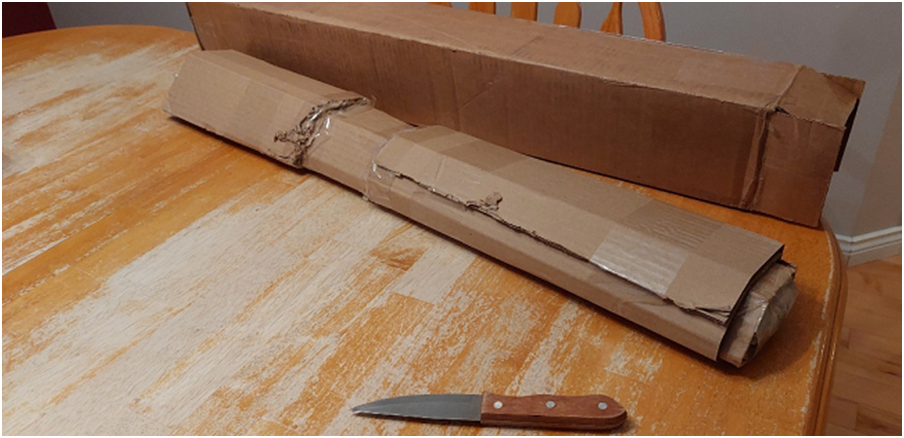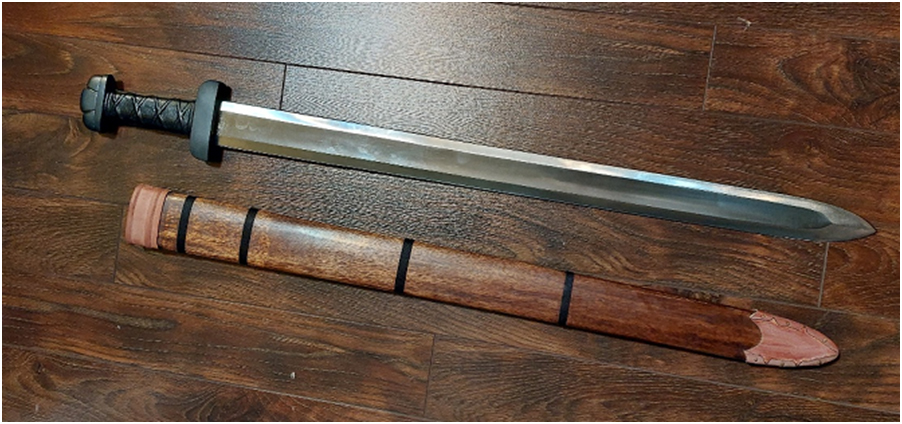 I also found this sword to be very attractive in the photos with its brown/bronze fittings and its black leather hilt which made a good match. Unfortunately, it was only apparently in the promo photos because mine is all black.
I immediately discussed this with Clyde and here is his response: "The antiquing the first time made steel rust, that is my picture. So we changed to a more true blackening antiquing and no rusting''. That makes a lot of sense. I played briefly with the sword. There are things I liked and others I didn't. This is what we will see in this review.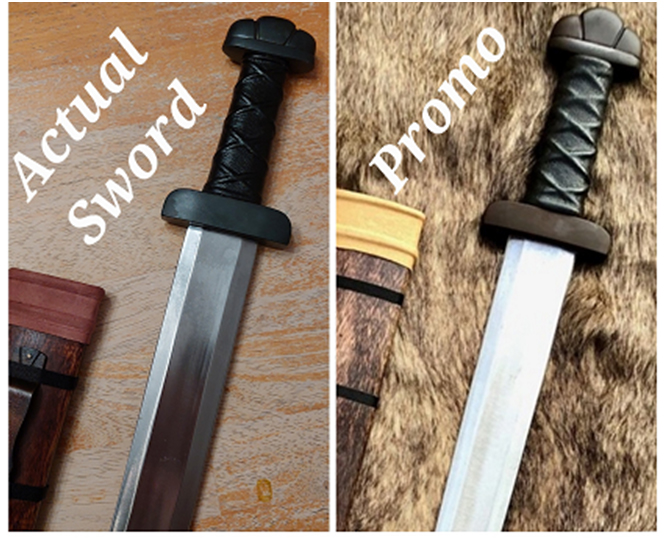 Manufacturer Specifications:

Blade Length: 27.5" 
Overall Length: 34.25" 
Handle: 6.5" 
Grip Length: 4.25"  
Weight: 2.5 lbs 
Edge : Sharpened 
Pommel : ? 
Width : ?  
Distal Taper: ? 
Sweet Spot (Centre of Percussion) : ? 
P.O.B.: '' Below Hilt
My Own Measurements
Blade Length: 27.25'' (-0.25'') 
Overall Length: 33.25'' (-1'') 
Handle: 6.25'' (-0.25'') 
Grip Length: 4'' (-0.25'') 
Weight: 2.67 lb (1.21 kg) (+0.27 lbs) 
Edge : Sharpened (I cut my finger while reviewing the sword) 
Pommel : Peened (but very small 4 mm) 
Width : 48mm 
Distal Taper: 3.6mm / 3.6 mm / 3.3 mm 
Sweet Spot (Centre of Percussion) : 6.5'' from tip 
P.O.B.: '' Below Hilt

Components
The Hilt

According to the Petersen Classification, the hilt is type D, with 3 lobes for the pommel, which is typical of 10th century Viking swords.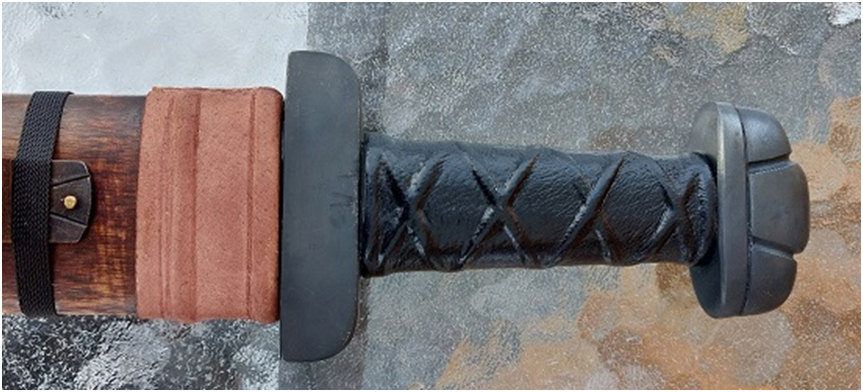 The Blade
According to Oakeshott's blade typology, the blade is type X. Oakeshott X describes swords that were common in the late Viking age and remained in use until the 13th century. The blades of these swords are narrower and longer than the typical Viking sword, marking the transition to the knightly sword of the High Middle Ages. 
The blade is made of 5160 carbon steel, which sports a high level of resistance to fatigue, has high ductility, and has good spring qualities useful for applications where flexibility is desired. The fuller is wide and shallow and runs almost the entire length of the blade (it stops 1.75" from the tip). It is well made, well centered and equal on both sides.
In order to lighten and help a blade perform, it is often said that there must be a distal taper. Distal tapering refers to a blade's cross-section thinning from its base to its tip. Unfortunately, there is very little on this blade, it is the same thickness most of the way but nevertheless starts to thin 8 inches from the tip (3.6 mm to 3.3 mm).
The blade of this sword comes sharpened from the manufacturer. The blade is not razor sharp but still sharp enough that I cut my finger while doing my review . I would say mid-sharp. There is no visible wave in the blade, no forging mark and it is straight. The length of the blade is 27.25 '' (but is announced at 27.5 ''). When you play with the sword a bit, you find the blade a bit whippy.
I don't know how the tang is but when hitting the blade on the flat against our knee you can clearly hear a strange rattling from the handle, or the peen is only 4 mm. There is also a good flex to this blade, bent it in both directions and it went back to true. It should also be noted that Kingdom of Arms swords do not have maker's marks on the blade.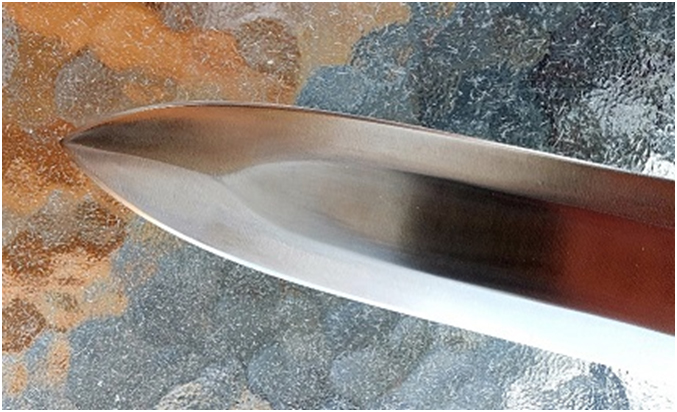 The Handle

The hilt is one of the components that attracted me the most when I first saw this sword. I loved the rough look with the dark brown fittings and the black handle. Unfortunately, everything is black contrary to what I thought (as discussed in my introduction). Everything is well-aligned and solid. You can't see any stitch marks on the leather. The length is perfect for my average hand. The grip is announced at 4.25 '', but mine is 4.0 '', which I prefer.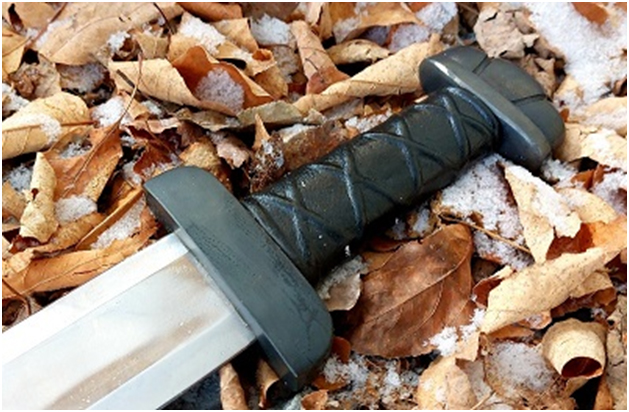 The Guard

The guard is very simple, without any detail. This gives it a rustic and authentic look. The guard is 87 mm wide, 21 mm high and 21 mm thick. The section that connects the blade to the guard is very nice. The hole is not too big. It's well adjusted. Which makes me think that the very little rattling I hear when I hit the blade (near the point of percussion) on my knee is coming from inside the hilt, not the blade banging on the guard.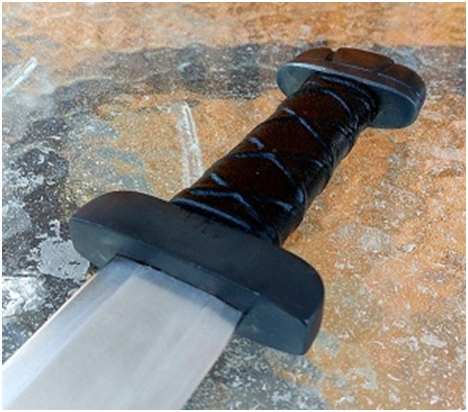 The Pommel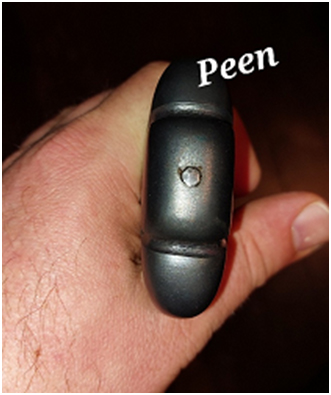 According to the Petersen Classification, the hilt is type D, with 3 lobes for the pommel, which is typical of 10th century Viking swords. The trilobed pommel is not riveted, it is a single piece. Nevertheless, it is peened, which ensures a good secure attachment, which makes the sword fully functional.
Everything is well-fixed and solid, but the peen is quite small… a point of 4 mm, which could make fear as for the solidity of this model. The pommel is 70 mm wide, 32 mm high and 21 mm thick. It's blued, which still makes it very appealing to me (even though it's not brown!). I think it gives an authentic and antiqued look, which is a change from the shiny fittings we are used to seeing.

The Scabbard

The scabbard is rigid and is made of wood. It is not covered with leather like the other Viking swords I own. It's different, of course. Since few scabbards made of natural materials have survived in the last 1000 years, I can't say if it's historical or not, such as the piece of leather at the very end of the scabbard. The sword fits well into the sheath.  In addition, you can hear the blade hitting from any edge on any side inside when you move the duo. The same problem I had seen on a review of their Irish Hilt Kern sword on YouTube. When the blade is inside, no metal surface is outside, so the fit and finish is very good. There are several swords in this price range that are sold without scabbards. Still lucky to get one with this sword. I will not take this defect into consideration in my final rating because it is more the sword as such that I wanted to review. But be warned of this issue.  There is also a belt loop on the scabbard to attach which is good. I might have liked this set to come with a belt too. I like to wrap the belt around the scabbard of my swords, I think it looks nice.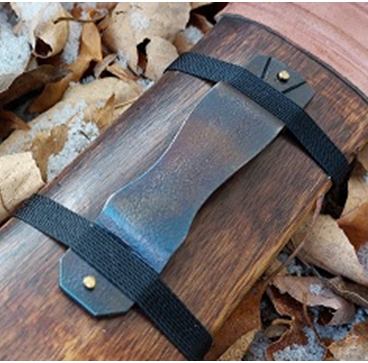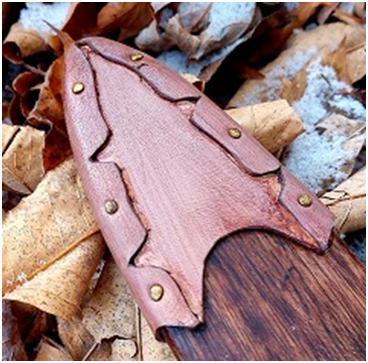 Handling
Unfortunately, I did not do any cutting or strength test with this sword. It's winter in Canada! I can however tell you that this sword is very comfortable to handle, not too heavy (even at 2.67 lbs). The handle offers a good grip and the guard/pommel combo does not hurt the hand. I do find the blade a little whippy though and it looks like it's coming from the handle. As mentioned, I suspect the tang to be a bit small, which would give a less solid sword feeling. However, this is only a guess because I did not see what is below the handle and I do not have the ability to disassemble the handle.  Its probably very strong.  Never seen a BCI Forge blade fail.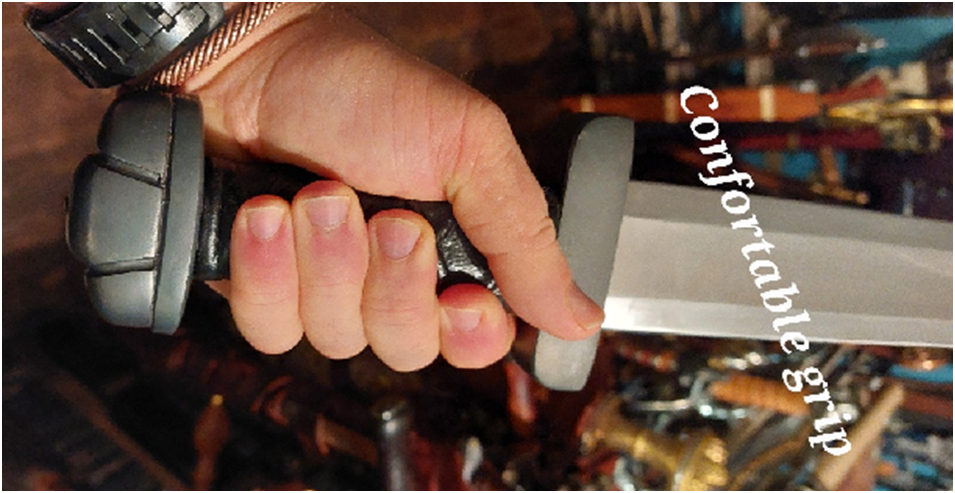 I like this sword. The Quality/Control is better than I would have imagined and Kingdom of Arms have a great Customer Service. The handle is just the right length for my tastes (4''). Very comfortable to handle. A little whippy but look very solid. The scabbard is very unique and out of the ordinary.  Yes the sword is loose inside but I don't want to judge a weapon by its scabbard, which remains an accessory.  Beautiful Viking sword. Well balanced. Kingdom of Arms swords are high priced at 700$, but all supplies are.  The temper of BCI is superior to many other mid range.  They are not heat treat and temper with digital time soak treatment, they are old school just like the originals, so lot of blades that just don't make it, and that is high cost. 
Its certainly not a perfect sword, there is few minor blemish but overall very nice. .  It's not a ceremonial Viking King's sword, it's a warrior's sword ! Simplicity at its best. A plus for the viking in you who wants to go on a raid or integrate a shields wall!   I'm giving 4 stars out of five for the Kingdom of Arms 10th Century Viking Sword.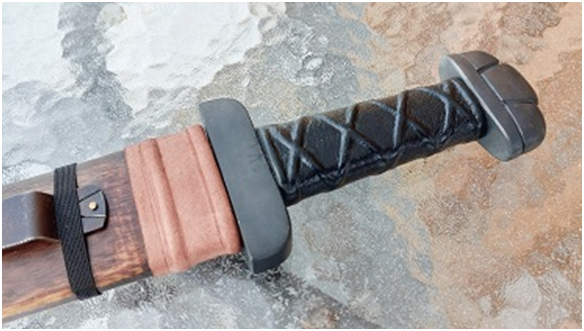 WHERE TO BUY
We are proud to offer a hand selected range of Kingdom of Arms Swords at the very best price possible right here at the SBG Sword Store

---
I hope this Viking sword review has been helpful. To return to Viking Swords from Viking Sword Review: 10th Century Viking Sword by Kingdom of Arms, click here


Buying Swords Online Can Be

DANGEROUS!



Find the Best Swords in the:
Popular & Recommended ARTICLES

---
---