What a sword company!
by Jorge
(NY)
OMG. I have just recieved the ktn 5 sword and opened it. My mouth dropped open as I inspected the sword. I have collected and used swords for years and this one is truly a work of art. I have bought from many sites before and as I have noticed last year, your site is my favorite. I will continue to purchase swords from your site as it is really realiable. I highly recommend SOTE!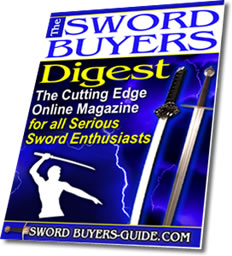 Sword Buyers Digest Newsletter!

Sword Buyers Digest Newsletter

Sign Up to Our FREE Monthly E-zine for all the latest sword news, info and much, much more! Click here for more info.