What did these swords come from?
by Cliff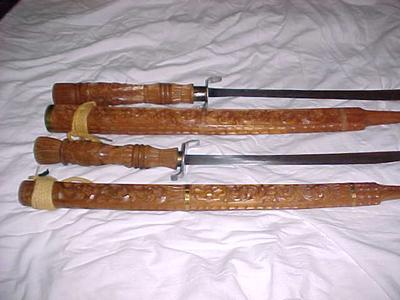 QUESTION: A friend gave these sword to me. They measure in length in the sheath, "40 inches and 37 inches". They are carved from Teak Wood. The guard looks like silver. If you could help I thank you very much.


ANSWER:
I have some of these too, and believe that they are Balinese or Indonesian souveniers (not particulary valuable btw). Quite ornate carvings aren't they, but watch 'em - the tangs are rat tail in the extreme and swinging them can all to easily result in the dreaded 'helicopter' effect...!
Hope this helps.
- Paul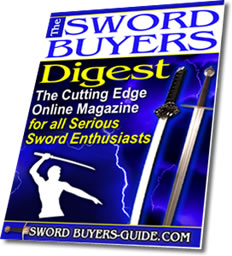 Sword Buyers Digest Newsletter!

Sword Buyers Digest Newsletter

Sign Up to Our FREE Monthly E-zine for all the latest sword news, info and much, much more! Click here for more info.