What is Blade Geometry?
by John
QUESTION: All this talk about blade geometry and I have no idea what it really means. What is the blade geometry?


ANSWER:
That is no quick question to answer John! :-)
Blade geometry consists of the shape of the blade, the cross section shape, the way the edge is formed, and whether or not it tapers as it travels down towards the tip as well as other factors such as harmonics, nodes within the blade that absorb impact, etc.
Suffice it to say, it is more than I can cover in these Q&A, however a detailed article will be forthcoming soon. Bear with me...! ;-)
Cheers,
- Paul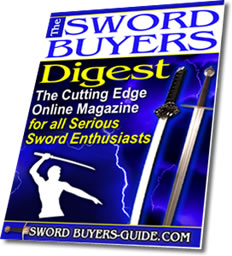 Sword Buyers Digest Newsletter!

Sword Buyers Digest Newsletter

Sign Up to Our FREE Monthly E-zine for all the latest sword news, info and much, much more! Click here for more info.